Niche's multi-pendant Circular Canopy provides the perfect setting for a customized cluster of your favorite silhouette. Go classic with the same shapes and colors or customize your fixture with varying drop lengths for a unique and dazzling display. Get inspired by these two modern interiors with our circular pendant lighting.
This Central Park West apartment in New York City features a cluster of Pod pendants in Sapphire glass. The chandelier greets homeowners and guests in the entryway, making a bold statement upon arrival. The blue glass provides a bright splash of color to the otherwise white interior. Like with the Linear Canopy, installation is made easy with a single electrical junction box.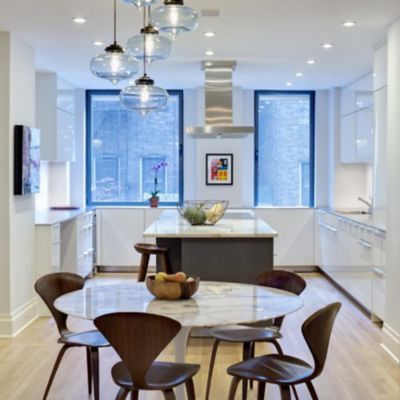 Platt Dana Architecture chose our Circular-5 Modern Chandelier for this East 57th Street apartment. Five Minaret pendants in Crystal glass act as the centerpiece of this space. Hanging above the dining room table in a staggered formation, the clear glass pendants add a touch of elegance and sophistication to this neutral palette. Discover more ways to decorate your dining room with modern pendant lighting.