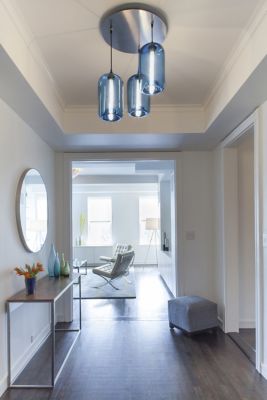 Interior designer Kiki Dennis saw an opportunity fit for more than one style of Niche's pendant lighting in more than one place! This Central Park West apartment in New York City greets you with a cluster of Pod pendant lights in our signature Sapphire glass. The Circular-3 Canopy makes the perfect centerpiece for unique, entryway pendant lighting.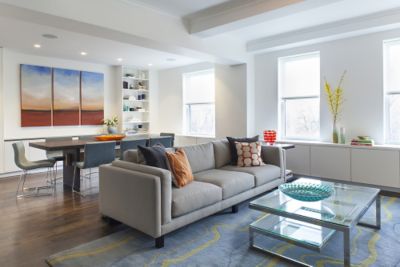 A mix of both warm and cool accent colors adorn the apartment. From the carpet and pillows to the glass bowls and artwork on the walls, the variety of dusty blues and muted oranges guide your eyes throughout the beautiful simplicity of the interior.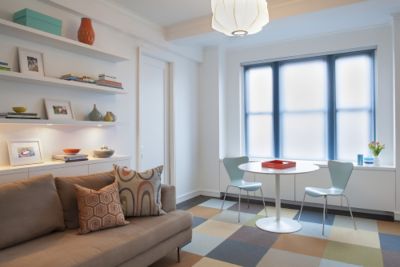 Built-in shelving and cabinetry in the living areas and the kitchen are both practical and attractive. The open shelving and the glass-door cabinetry act as display cases as well as storage and organization.
Talk about space-saving, even though this New York City apartment boasts a walk-in bathroom vestibule, it utilizes a sleek sliding door so the adjacent door frame on the right is not obstructed. Inside reveals the other hidden gem in this home - another Niche pendant, the Aurora pendant light in Sapphire.