With Niche's modern chandelier collection, you can easily hang 2, 3, 4 or more pendants from our multi-pendant linear canopies, made customizable to fit your unique style and space. A single electrical junction box helps to ensure even spacing between each pendant and makes installation easy.
This home office by Purvi Padia Interior Design incorporates two of Niche's Aurora pendants in Gray glass. Our multi-fixture canopy provides the perfect amount of light for this workspace, while the glass color complements the chrome desk and adds a touch of sophistication to this Upper East Side residence.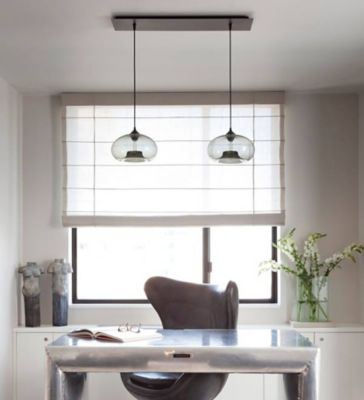 Our signature Pod pendants in Gray glass hang from our Linear-3 modern chandelier and enhance the room's cool tones and oval tabletop over which they hang. A sequential line of pendants in this conjoining space also helps to give depth to the dining area designed by Studio Dearborn. Discover other ways to decorate your dining room with pendant lighting.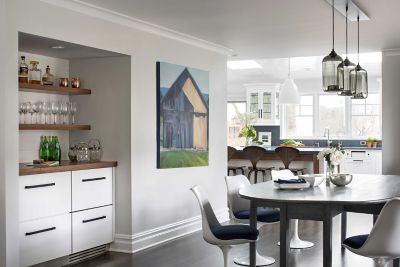 A line of five Effervescent Bella pendant lights hangs from our Linear-5 Canopy in the Brushed Stainless finish above a long, wooden dining room table in this Herb River Drive country home. The glass color complements the stream of natural light and contributes to the room's minimal feel, making this multi-pendant linear canopy the right choice for this clean, neutral-toned dining area. Take a closer look into this modern dining room.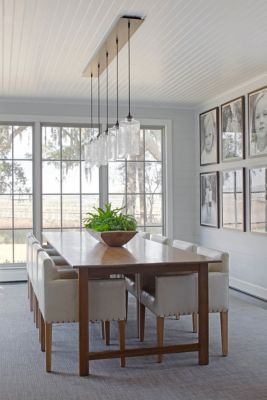 Each canopy fixture can be customized with your choice of any glass pendant styles, colors, and drop lengths. Click here to see all of our multi-pendant chandeliers.