Neal Schwartz and his team first visited the foothills and knew that they wanted their clients to experience nature through architecture, with operable floor-to-ceiling windows that would boast sweeping views of California's Sonoma Valley. The property is surrounded by native Oak Trees lined with pale Spanish moss, also known as lace lichen, an organism after which the project is named. Like this natural element, which is extremely porous in nature, Schwartz wanted to mimic its attributes by creating an open house that celebrated the surrounding ecosystems.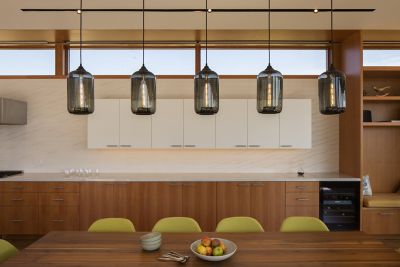 The kitchen, dining, and living room share the same space, with an open floor plan that harmoniously joins the three together. In the dining room, five Pod pendants in Gray glass hang from a Matte White Linear-5 Multi-Pendant Canopy, complementing the neutral and natural palette of beige and wood tones. The lime chairs situated around the dining table add a pop of color, inspired by the greenery just beyond the home's interior.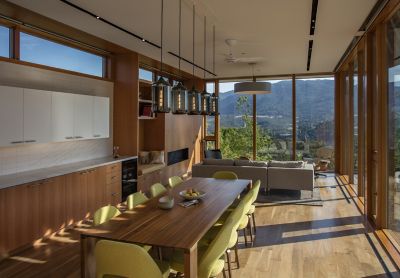 Are you hanging multiple modern pendant lights like in this space? The Linear-5 Modern Chandelier offers an efficient way to combine any five light fixtures with a single electrical junction box. The glass color, pendant shape, cord length, and metal finish are up to the client, making each lighting installation truly unique and suitable for any design style.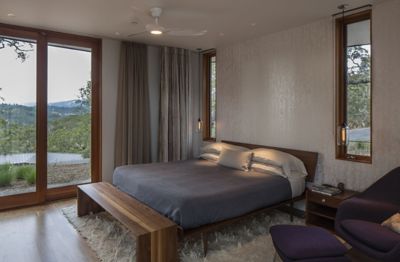 In the bedroom, two Helio pendants in Crystal glass hang above each nightstand. This offers a modern take on the traditional table lamp and creates balance and symmetry within the space. As like with the Gray glass in the dining room, the Crystal glass complements the minimal aesthetic featured throughout the house. The pendant lights add a bit of warmth to supplement the natural sunlight that enters through the narrow windows and sliding doors leading to the outside world.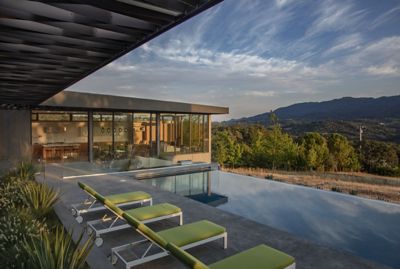 Modern Lighting Project Details
Project Name The Lichen House
Location Glen Ellen, California
Architect Schwartz and Architecture
Contractor Eames Constructiuon
Photographer Richard Barnes Photography
Products Used Gray Pod Pendants, Matte White Linear 5 Multi-Pendant Canopy, Crystal Helio Pendants