Twice a year, Niche holds a semi-annual Factory Sale. We open our Beacon, New York studio to the public and offer 50-80% on our factory samples and seconds. Here are three modern lighting installations that incorporate Niche Factory Sale pendants to help inspire your trip to our next sale this fall.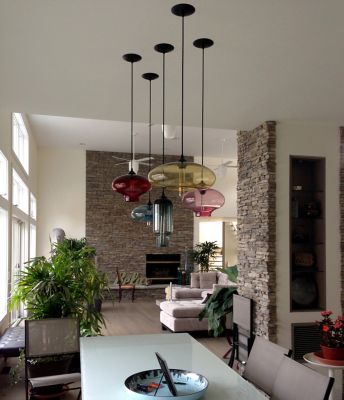 A colorful arrangement of Niche Factory Sale pendants adorns a loyal customer's dining room table. A combination of Aurora, Stargazer, and Pharos pendants hang from varying drop lengths to create a decorative centerpiece while also providing enough light from the elongated table. The array of Crimson, Sapphire, Gray, Rose, and Smoke glass adds a beautiful burst of color to this otherwise neutral interior.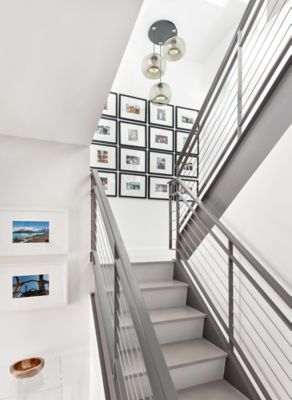 A cluster of three Stamen pendants in Smoke glass hangs from a Circular Canopy. Our luxurious handmade modern pendant lighting offers a simple way to enhance your stairway, as seen here. Hanging from varying drop lengths, the pendants' cascading effect helps to visually define the space and seamlessly guides both homeowners and guests to their destination. Our signature Smoke glass complements the cool tones featured throughout the neutral interior while providing an added bit of color to the mostly white and gray palette.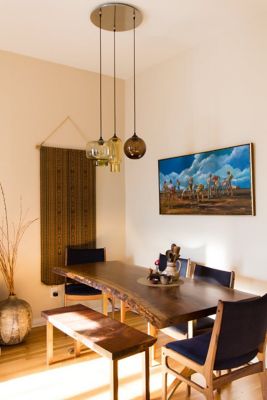 A Smoke Oculo, Amber Pharos, and Chocolate Solitaire hang from a Brushed Stainless Circular-3 Modern Chandelier above the dining room table. Hanging from slightly different drop lengths, this cluster of three pendants creates a stunning centerpiece. The rich colors of our Smoke, Amber, and Chocolate glass complement the black walnut table and hardwood floors featured in the dining room and conjoining living space.