A writer and photographer moved back to his childhood building in Brooklyn after living in the San Francisco Bay Area for 14 years. The homeowner undertook the project by himself, starting from scratch and spending his free time hunting through New York City's furniture stores and browsing websites to find the pieces that complement his style. Eventually, he was able to design a space that is cohesive, yet evokes different eras and settings. We are thrilled to see Niche modern pendant lighting from our Factory Sale in this home. We couldn't be happier with how our hand-blown lights tie the overall feel of the environment together.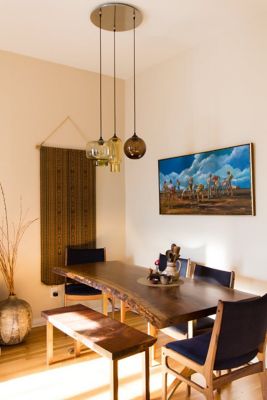 A Smoke Oculo, Amber Pharos, and Chocolate Solitaire hang from a Brushed Stainless Circular-3 Modern Chandelier above the dining room table. Hanging from slightly different drop lengths, this cluster of three pendants creates a stunning centerpiece. The rich colors of our Smoke, Amber, and Chocolate glass complement the black walnut table and hardwood floors featured in the dining room and conjoining living space.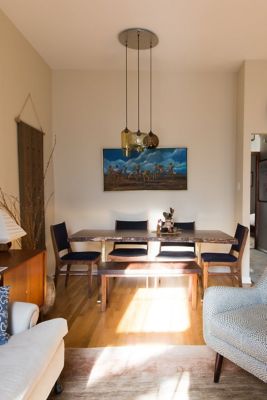 Your modern dining room display should make a decorative and intimate statement while also providing enough light for the table. The Circular Modern Chandelier allows you to create a customized cluster of your favorite pendants — glass shades, colors, and drop lengths are up to you, making each installation truly unique.