From sky blue to deep indigo, blue is the most versatile decorating hue next to neutrals. Whether you incorporate bright lighting to add a burst of color in your space or dress up a white interior with bold blue accents, this beautiful shade will bring elegance to any interior. Here are a few examples of how designers decorate with the color blue.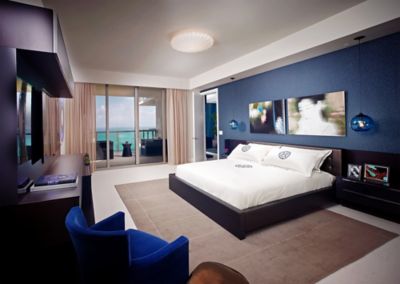 1. Use Blue Pendant Lighting
This St. Regis master bedroom by B+G Design Inc. features two Solitaire pendants in Sapphire glass. This simple silhouette creates symmetry in the space by hanging on either side of the bed. The bold blue hue of our signature Sapphire glass complements the bedroom walls and Florida's ocean views just beyond the floor to ceiling windows.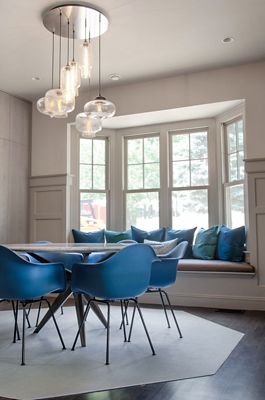 2. Incorporate Blue Furniture
Designed by Dietz and Associates, this Boston residence features Effervescent pendants hanging from a Polished Stainless Circular-7 Modern Chandelier. The cluster features a staggered grouping of Niche Pharos, Oculo, and Minaret pendants. The pendants hang above a dining room table, with blue chairs and pillows adding color to the space.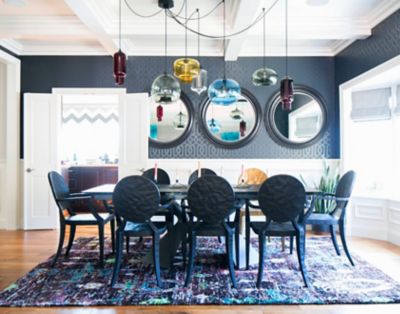 3. Pair with Bright Glass Colors
This Dana Point dining room by Grace Blu Designs features a cluster of brightly colored pendants. Our Sapphire Terra complements the purple and blue tones featured in the area rug, the slate wall covering, and the custom dining set. The widely-proportioned silhouette of our Terra pendant hangs among a Crimson and Plum Pharos, and Amber Oculo. To balance the burst of color, a Gray Stamen and Aurora, and a Crystal Turret help complete this grouping.