Tami Wassong Interiors has paired shades of mid-toned wood grains, slate blues and clean white tones to complement Niche's neutral contemporary lighting seamlessly. You can see more of Tami Wassong's work on her Instagram and Houzz pages.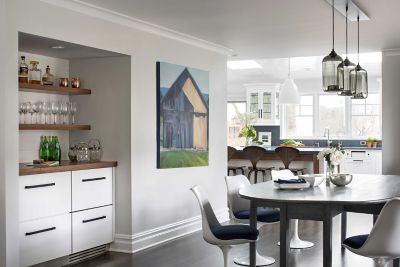 Pod pendants in our signature Gray glass color hang from a Linear-3 modern chandelier above an oval drop leaf table. Using a line of pendants make the table appear longer and give more visual depth to the entire space. Discover other ways to dress up your dining room table with pendant lighting.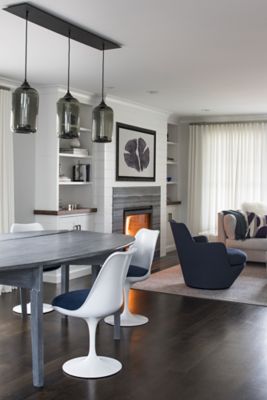 The Linear-3 modern chandelier uses a single junction box instead of one box per pendant light to save time during installation. The chandelier is also designed to ensure even spacing between pendants. It is available in multiple metal finishes for more versatility and still provides custom heights for hanging pendants. Hang them straight across, or try staggering their heights. Learn more about other ways to hang multiple pendant lights.
Modern Dining Room Lighting Project Details
Project Name Beach House
Location Westchester, New York
Interior Designer Tami Wassong Interiors
Cabinetry Studio Dearborn
Photographer Macchia Photography
Products Used Pod pendants in Gray glass, Linear-3 Modern Chandelier