Surrounded by mountains and forests, this 9,000-square-foot Tahoe retreat showcases California's beauty. With help from Zak Architecture and Kelly Hohla Interiors, a young family is now able to integrate their active lifestyle into the landscape surrounding their vacation home. This seven bedroom, nine bathroom residence is what dreams are made of, with amenities such as a home theater, bar, game room, and patio with a built-in BBQ and jacuzzi available for the homeowners and their guests to enjoy.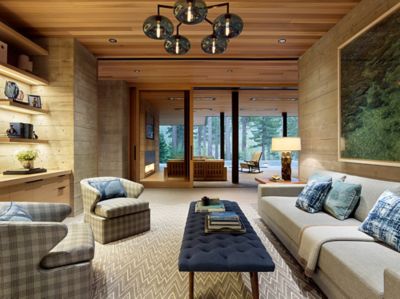 Equipped with mid-century modern furnishings and large glass walls that open to breathtaking views of the woodlands, this living area bridges the exterior and interior, creating a sense of continuity within the space. Above mid-century modern furnishings hangs a Quill 5 Chandelier with Aurora pendants in Sapphire glass, which complements the blue accents featured in the room's pervasive fabrics. The refined frame of the Quill Chandelier is seen here in the Matte Black metal finish, which exists as a companion to the concrete, steel, and glass materials used throughout the home.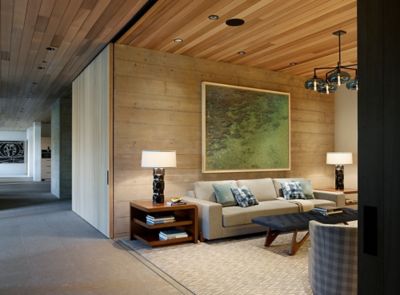 One of the bunk rooms in this retreat features two custom queen-size doublebeds fitted with patterned pillows and quilts. Here, a trio of Stamen pendants in Sapphire glass hangs from the ceiling adorned with wallpaper, which helps to visually expand the space. The bold hue of Niche's Sapphire glass complements the blue accents showcased in this bedroom.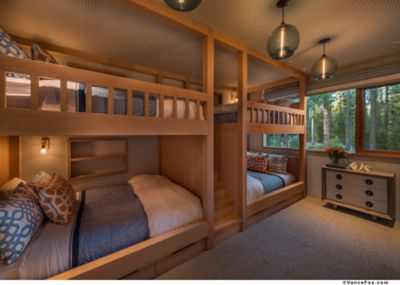 We are thrilled that Kelly Hohla chose Niche handmade pendant lighting for this project. "Lighting is another opportunity for personality," Hohla tells Tahoe Quarterly "In all my projects, I feel strongly about the lighting. It's the first thing you have to pick with the client, and it's one of the most expensive, so it's an important part of the process." We absolutely love how she incorporated our products into this incredible space.

Modern Lighting Project Details
Project Name Martis Camp Lot 168
Location Truckee, California
Architect Shay Zac Architecture
Interior Designer Kelly Hohla Interiors
Contractor Vineyard Custom Homes
Photographer Matthew Millman Photography, Vance Fox
Products Used Quill 5 Chandelier with Aurora pendants in Sapphire glass, Stamen pendants in Sapphire Glass