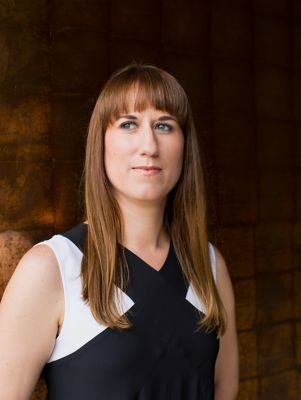 Designer Spotlight
We work with our clients to develop a home that reflects who they are and how they live. Our principal, Kelly has over 16 years of experience with successful high-end residential projects and happy clients in San Francisco, Sonoma, Tahoe, Montana, New York, Hawaii, and beyond. Through travel, experience, and education, Kelly has developed a love for many forms of design ranging from contemporary eclectic mixes, to classic architecture and antiques with fresh updates. All of our interiors, whether contemporary or traditional, focus on attention to fine detail and craftsmanship, proportion space and light, well-edited forms and materials, high style, tailored comfort, and a little unexpected edge. We consider it an honor and a privilege to get to know each client over the process, and to transform their homes into a unique and inspired reflection of them.

What kind of space do you enjoy designing the most?
Contemporary family spaces with an emphasis on comfort and personality. Big open windows that bring the outside into the room and natural light never hurt.
What drew you to Niche products initially?
Niche has a clean modern aesthetic that I am drawn to. I love the ability to customize the color palatte, and Niche keeps adding more great color options, so the possibilities are endless. Additionally, their team is knowledgeable, easy to work with, quick to respond, and always professional.
What is your favorite Niche pendant shape and color combo? Why?
We just ordered some of the Helio pendants in Cielo, which is a cloudy aqua from the new Chroma series. I am dying to use the Delinea and the Pinch shapes as well in Chroma colors, which are newer to the collection.
You have used Niche products in a few of your projects. Which interior featuring Niche is your favorite?
We installed a beautiful condo for a client at the Andaz Resort in Maui last year. It has amazing ocean views, and the beautiful color of the aqua Condesa glass on the Stamen pendants really brings the feel of the ocean into the kitchen with a crisp burst of blue.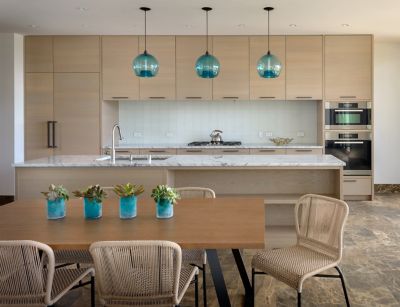 Describe your design philosophy in one sentence.
Function, form, and beauty — we believe a home should have personality, style, comfort, and elegance, carefully curated to each individual client.