Designed by Stocker Hoesterey Montenegro Architects and Robert Elliot Custom Homes, this private residence in Dallas, Texas features multiple Niche pendant lights and a contemporary chandelier. The SHM team shares a passion for practicing architecture that is engaged to make a lasting impact on every life it touches. With their stunning attention to detail and their choice to incorporate Niche's original handmade designs, Stocker Hoesterey Montenegro Architects have certainly achieved their goals. We couldn't be more pleased with the result.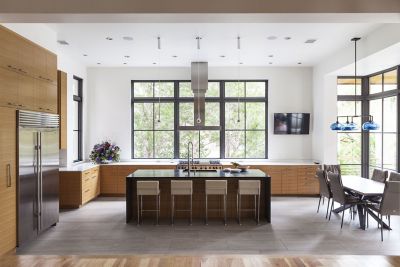 A Quill 5 Modern Chandelier with Aurora pendants in Sapphire glass adorns the dining room table. The bold blue hue of our signature Sapphire glass adds a burst of brightness in this otherwise neutral interior. The defined angles and refined square tubing of Niche's Quill Modern Chandelier create a unique and contemporary centerpiece.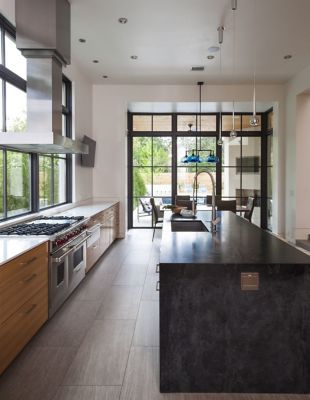 The dining room is not the only area in the home with Niche hand-blown glass pendants. In the bathroom, Gray and Crimson Pharos pendants adorn the vanity. Hanging from varying drop lengths, these two pendants add an elegant touch to the space. Our signature Gray glass complements the textured wall covering while the rich Crimson glass complements the warmth of the wood tunes featured throughout the home.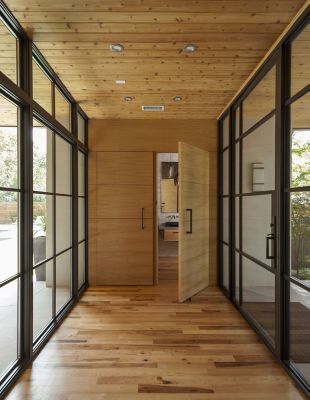 Modern Lighting Project Details
Project Name Strait Lane Circle Residence
Location Dallas, Texas
Interior Designer Robert Elliot Custom Homes
Architect Stocker Hoesterey Montenegro Architects
Photographer Nathan Schroder

Products Used Quill 5 Modern Chandelier with Aurora pendants in Sapphire glass, Gray and Crimson Pharos