SHH Architecture and Interior Design redesigned an existing tea room and cafe in one of the UK's most historic sites, the childhood home Queen Elizabeth I. The Hatfield House utilized high-end craftsmen for the interior's furniture, metalwork, and of course, a colorful array of Pharos pendant lights from Niche.
While the Hatfield House decided on various colors and cord lengths, Canada's Krokodile Pear chose to use the Pharos in one color at a uniform length for their cafe pendant lighting. The glow from the Amber glass color entices passersby to enter and try a healthy fresh-pressed juice from this unique cafe.
This rustic Vancouver cafe displays a smattering of
Oculo pendant lights
throughout the interior. Niche's signature Chocolate glass really plays off of the vintage vibe provided by the traditional wooden chairs and conventional tiled floor. The Oculo adds to the time-honored atmosphere that the entire cafe encompasses.
The right cafe pendant lighting was an important factor within the walls of this playful Vietnamese cafe in London. A linear arrangement of Pharos pendant lights adorn the cafe's front counter. In this setting, the pendant lights echo that of paper lanterns found in Vietnam, giving a contemporary twist to a well-known look.
Three Solitaire pendant lights in Opaline greet customers at the counter of the Influx Cafe in San Diego, California. Owner Jason Twilia says, "I feel like lights or other aspects of design are very 'at-the-moment' and I want my cafe to still look good 20 years from now." That's exactly what Niche lighting set out to do!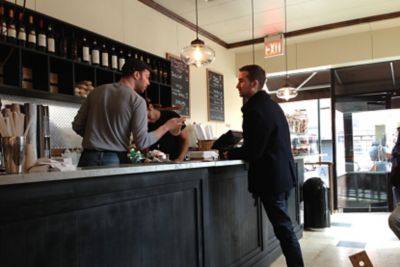 Tarallucci e Vino is a cafe and wine bar
located in New York City's East Village. Serving pastries, paninis, and cappuccinos by day and a full dinner menu with 20 types of wine by night, Tarallucci's vibe embraces the "opposite of trendy." We can't help but think the timeless silhouette of our
Crystal Minaret pendant lights
above the counter have something to do with the unassuming atmosphere.