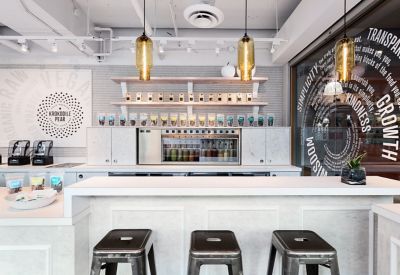 Krokodile Pear is Vancouver's hippest, cold-pressed juice bar with two neighborhood locations in Yaletown and Kitsilano. Don't let the term "juice bar" scare you away, though. Krokodile Pear doesn't believe in charging $13 a bottle for the privileged few. They cater to anyone that wants to be well and feel well through the transformative powers of daily, cold-pressed juice. Locally-sourced ingredients, and state-of-the-art presses that minimize waste aren't just the only highlights. Take a closer look at the Kitsilano location, the modern interior matches this up-and-coming neighborhood's vibe.
House of Bohn is an award-winning Vancouver-based interior design and concept creation firm specializing in a broad range of industries including hospitality, office, retail, commercial and residential. As a juice bar cafe and retail location, Krokodile Pear picked the right designer!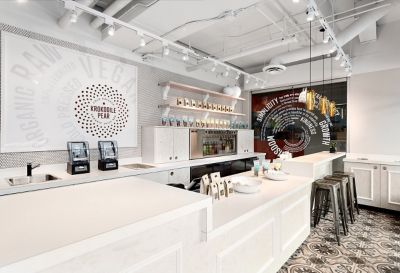 The juice bar sports a monochromatic palette with sleek white countertops and silver stools and fixtures. A gray marble pattern in the cabinetry adds a subtle pattern against the pristine counter. Paired with the neutral-toned, funky tiled floor and graphical typography on the windows and menus, an organized chaos comes to fruition.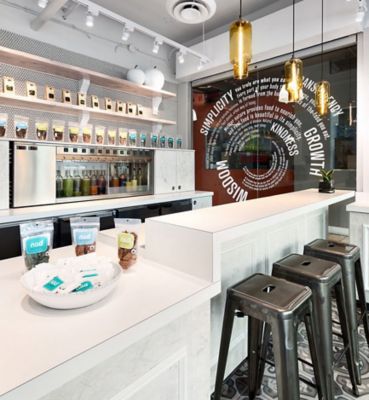 The pop of color within this utilitarian, space-age design comes from Niche's best-selling Pharos pendant light! The three Amber glass lights gently glow over the counter as the bar's focal point. Their warmth radiates a unique welcome to passersby, signaling that Krokodile Pear is no ordinary juice bar, enticing customers to enter and try a fresh, healthy concoction!