Family-owned eatery Influx Cafe has three locations in the San Diego, California area. While best-known for its coffee and locally sourced ingredients, we reached out to owner, Jason Twilla, and architectural firm, Colkitt&Co, to find out more about the modern design, not just the food! Twilla, and Colkitt&Co's founder, Nathan Lee Colkitt, worked closely together to incorporate sleek, contemporary design, with pops of color that make up the newest location.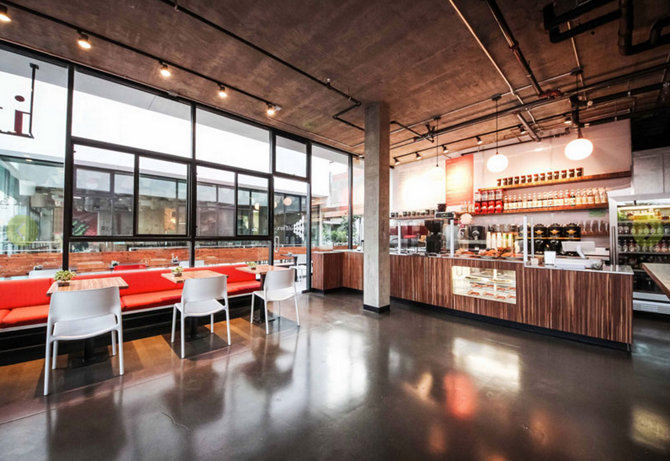 With every project, Colkitt aims to share the client's vision but also to push them to new heights with work that "drives commerce, transforms communities and is fueled by a passion of people and space." Boasting custom dining tables and benches by Wood+Silver, a row of our Solitaire Pendants, a rebuilt vintage Italian espresso machine and handpicked dishes, it's no wonder Influx Cafe is a popular gathering spot!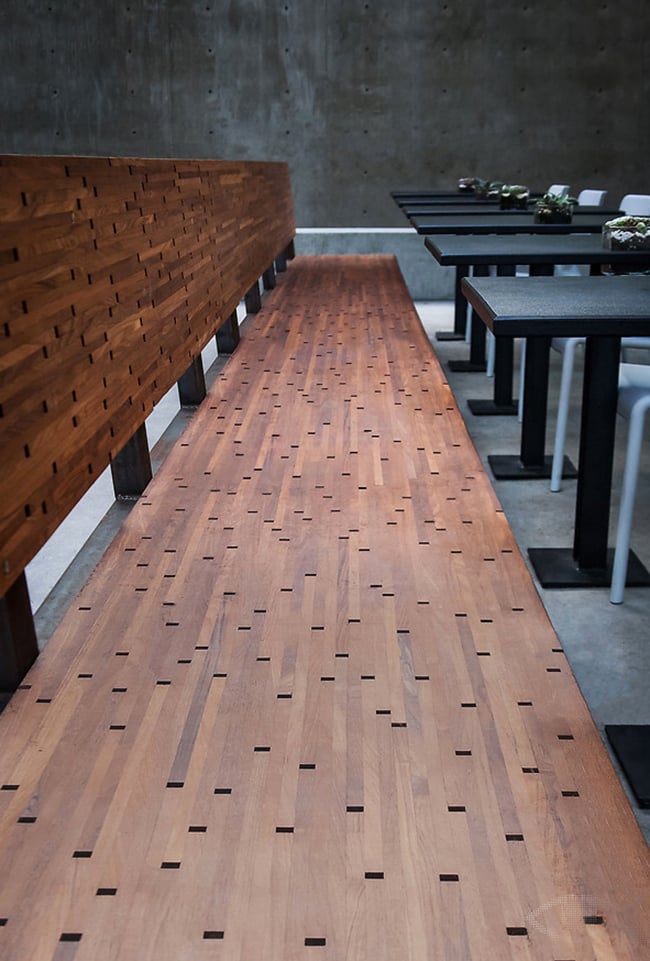 Not only do local and thoughtful ingredients populate the menu, they also populate the space! Twilla spoke of the importance of sourcing both local and thoughtful materials in the crafting of the space and the custom wood benches and tables came from San Diego fabricators, Wood+Silver, who are all about building great furniture. Similarly, Niche's handmade-in-New-York mantra was an eye-catcher for Twilla's design vision.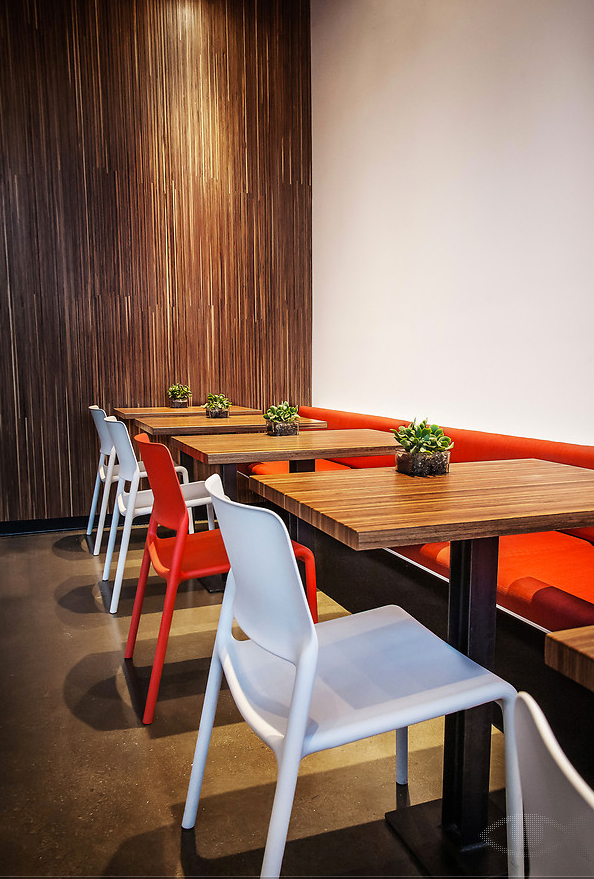 It is easy to notice when something is built with care and passion and that way the commitment to sustainability lends a sense of community to Colkitt's projects. He adds that local craftsmen are "just as passionate about their projects as we are about ours, which ultimately manifests itself in the final space."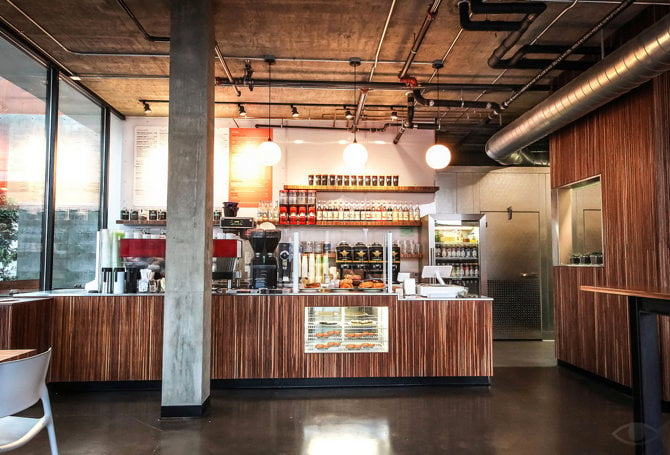 Influx Café is a comforting, neighborhood hangout spot, and Twilla cites that Niche's Solitaire Pendants radiate a "warm, welcoming glow" and the lights "bring people in." We feel pretty special to be the only exposed light fixture, which Twilla describes as the "heart and soul" of the entire cafe.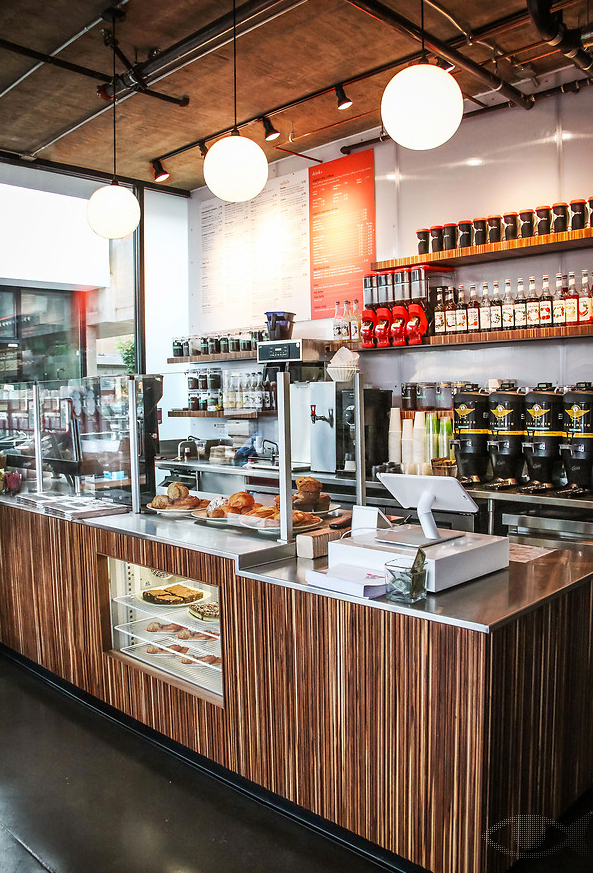 "I feel like lights or other aspects of design are very 'at-the-moment' and I want my cafe to still look good 20 years from now." Twilla says he was drawn to the simple, clean, shapes of Niche pendants, and recognizes their ability to be timeless as his business grows in the years ahead.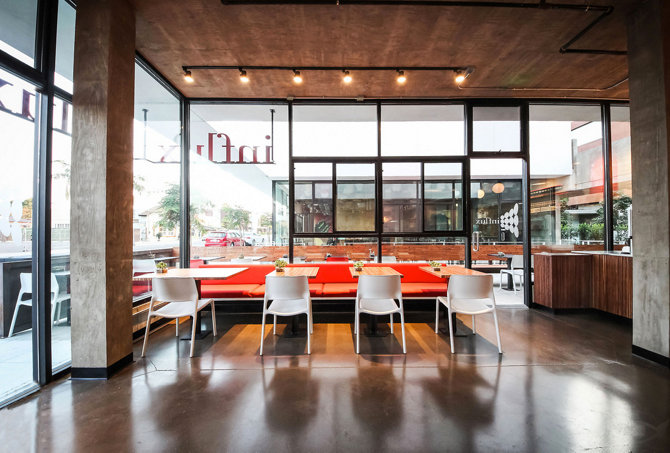 Photographs by Sara Norris
"The colors, the shape, the proportions all make me gush. You can't go wrong with fixtures that are both fun and classic at the same time," Colkitt adds. In agreement with Twilla that lighting technology is continually evolving, Colkitt compares the ageless nature of Niche fixtures to the likes of a stained glass window in an old cathedral. The Influx Cafe at North Parker is located at 3000 Upas Street in San Diego. Not in California? Shop our Solitaire Pendant and Niche restaurant lights online from the comfort of your computer, anywhere!