O-Ku Sushi celebrates authentic Asian cuisine with a southern approach through a menu that focuses on unique ingredients and sophisticated presentations. The newest location in Charlotte, North Carolina, which opened a few months ago, was designed by David Thompson Architect, who also recently designed Oak Steakhouse in the same city. Both of these establishments feature handmade restaurant pendant lights from Niche, and we couldn't be more pleased with the result!
Trove pendants in Gray glass hang above the bar in O-Ku Sushi. The warmth from our Gray glass creates an inviting atmosphere for guests. The glass complements the exposed brick walls, dark wood, and manzanita branches incorporated throughout the space. The Trove pendant is part of the Crystalline Series, which boasts bold angles and colors. The geometric shape of this silhouette brings a playful touch to this local hot spot.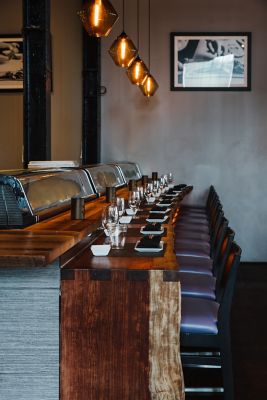 Pod pendants in Smoke glass hang in the main dining room. The Pod modern pendant light funnels light delicately through its long, cylindrical shape. A single pendant over each table adds illumination and intimacy, allowing diners to enjoy a nice evening out on the town.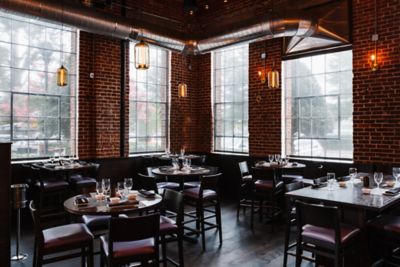 Modern Restaurant Pendant Lighting Project Details
Project Name O-Ku Sushi
Location Charlotte, North Carolina
Architect David Thompson Architect
Photographer Andrew Thomas Lee
Products Used Trove pendants in Gray glass, Pod pendants in Smoke glass