Designed by David Thompson Architect, Oak Steakhouse in Charlotte, North Carolina offers a modern take on the classic American steakhouse. With locations in three other cities, including one in Atlanta with Niche modern restaurant pendant lights, Oak Steakhouse celebrates local cuisine and culture. Their newest location in Charlotte has a selection of small plates and entrees that highlight fresh North Carolina ingredients and flavors. We are thrilled that an establishment with such thoughtful attention to detail chose to incorporate handmade glass lighting from Niche in their design.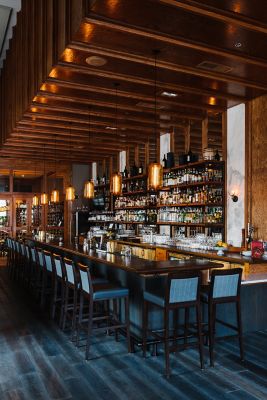 Seven Pod pendants in Amber glass hang above the bar. The linear grouping of Pod pendants from individual junction boxes adds length to the bar top, creating visual depth in the interior. The honey-colored hue of our luxurious Amber glass brings warmth to the atmosphere, complementing the dark wood tones and producing an inviting environment for guests to enjoy.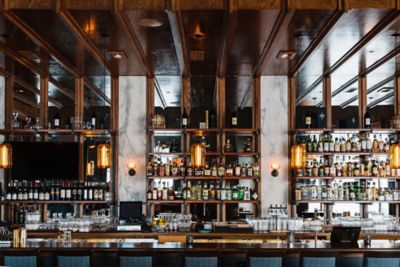 Modern bar pendant lights give off a soft glow, adding to any interior, especially those intended for entertaining. Any configuration of Niche pendants will impress your guests as they mingle with a drink in hand under bold bar lighting. With over 20 pendant shapes to choose from and an array of contemporary glass colors, Niche makes finding the perfect modern bar lighting a breeze.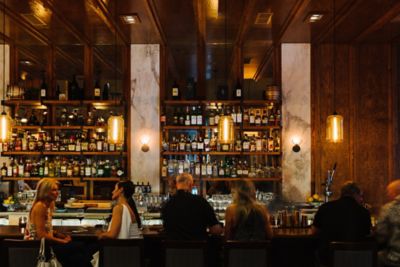 Modern Bar Lighting Project Details
Project Name Oak Steakhouse Charlotte
Location Charlotte, North Carolina
Architect David Thompson Architect
Photographer Andrew Thomas Lee
Products Used Pod pendants in Amber glass