Designer and Architect Santiago Ortiz and builder Scott Nelson of Naturalwalls worked together on this Venice, California home. Embracing a minimalist palette, this home is filled with beautiful natural light that floods every room. We love that Niche dining room pendant lighting balances the sun's glow and brings added light to this stunning interior.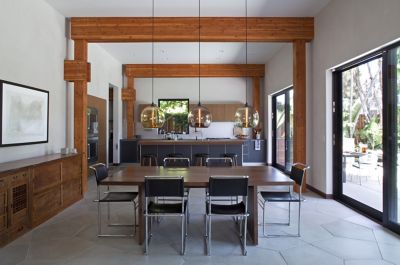 A trio of Stamen pendants in Smoke, Plum, and Amber glass hang above the dining room table. The Stamen modern pendant light is truly the signature pendant of the Niche line, redefining the parameters for hand-blown glass by curving around voluptuously and tucking into itself unexpectedly. These three luxurious glass colors complement the warm, neutral tones featured throughout the space, especially the exposed wood beam structures by Naturalwalls.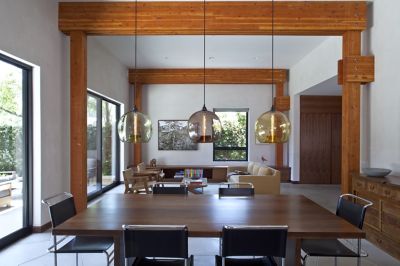 Your modern dining room display should make a decorative and intimate statement while also providing enough light for the table. Proportion is important — you'll want to choose a pendant light or lights that will complement the size and shape of your dining table, not overwhelm it. This linear arrangement of Stamen pendants perfectly accentuates the length of this rectangular table. No matter how you style your handmade pendant lights, a unique centerpiece of Niche hand-blown glass will surely add flavor to your meal and impress your guests.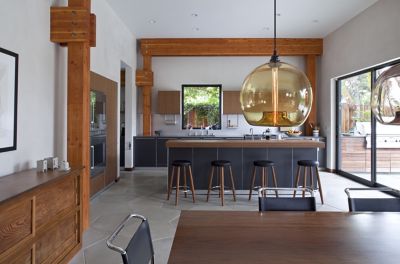 Modern Dining Room Lighting Project Details
Project Name Verde
Location Venice, California
Builder Scott Nelson, Naturalwalls
Architect Santiago Ortiz
Photographer Art Gray
Products Used Stamen pendants in Smoke, Plum, and Amber glass