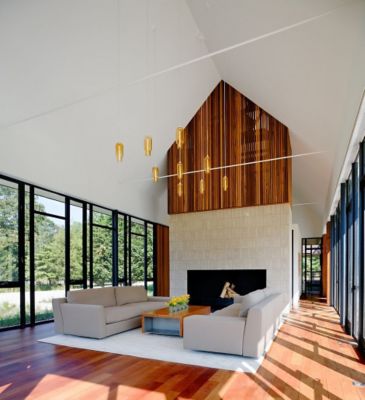 The interior of this Long Island summer home is wide open and immaculate, a suitable high-ceiling setting for the simple silhouette of our best-selling Pharos pendant lights.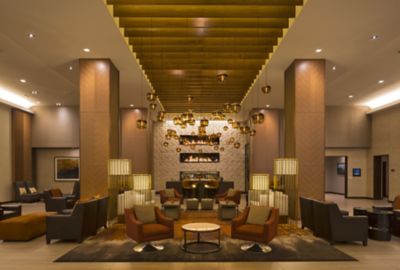 2. Downtown Denver Hyatt
Modern lighting installations for high ceilings aren't just for residential interiors! Take a look at this lounge in the Downtown Denver Hyatt that shows off a gorgeous installation of our Encalmo Stamen pendant lights.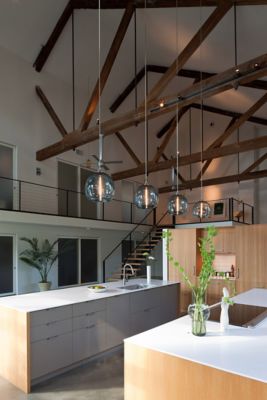 3. Beacon Loft
Loft ceilings are the quintessential high ceiling backdrop. Often accompanied by wooden beams, paired with a linear installation of pendant lighting makes for a striking display of intersecting lines and patterns.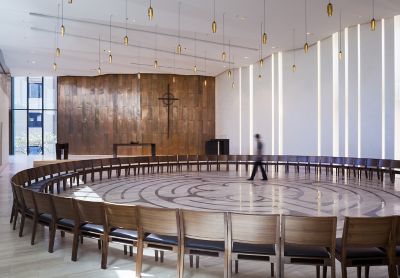 When you think of high ceilings, you may also think of religious institutions. The Gratz Center is part of Chicago's Fourth Presbyterian Church. The multi-level modern addition to the historic church includes classrooms, a library, gallery, dining facilities and a 350 person capacity chapel where our Pharos pendant lights in Amber glass adorn the high ceiling.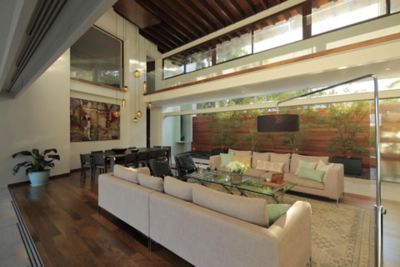 The other 4 interiors highlighted all used a series of the same pendant light, but this residential interior with high ceilings switches it up a bit. This home in Mexico uses our Stargazer, Pharos, Minaret, and Solitaire pendant lights to achieve a focal point above the dining room table.