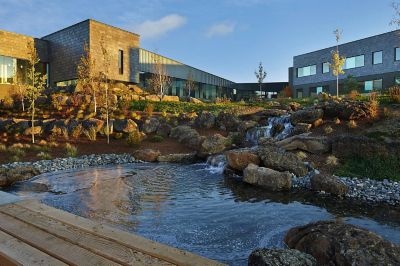 Who said health care facilities can't sport modern design? Not ZGF Architects, that's for sure! Taking cues from the hospitality industry, the 105,200 square-foot Saint Anthony's Hospital in Pendleton, Oregon will make your visit feel more like a resort than a hospital.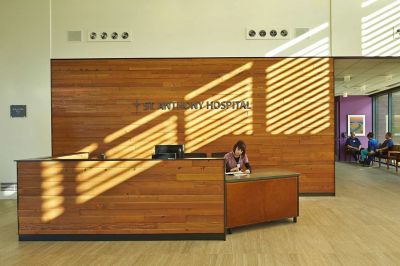 The main entrance greets visitors with beams of natural sunlight, hitting the Douglas fir reception desk. Maximizing daylight in the new space was a very important feature during the design process. All visitors get a real sense of this when they first enter the hospital.
The interior is designed to be patient-friendly, warm and easy to navigate. Niche's Oculo pendant lights and a Pharos pendant light, all in our signature Amber glass, provide a peaceful glow to the staircase, adding to the hospital's modern design.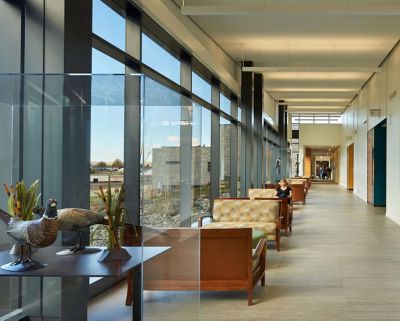 St. Anthony's new campus is seated among 90 acres of gently rolling hills. The design concept of establishing a connection between the indoor and outdoor surroundings is evident. Patients and families can look out into the healing garden while waiting in the comfortable and private corridor. Niche pendant lighting isn't just for residential interiors! Have any upcoming commercial projects in the works? Shop the Oculo pendant, Pharos pendant, and our other styles for your next venture!