The Pod modern pendant light funnels light delicately through its long, cylindrical shape and is finished with our dramatic, signature inward curvature. The tubular Edison style bulb at the heart of this piece ties the different elements of the pendant's design together seamlessly. Below are three examples of residential interiors for your Pod modern pendant light.
1. Two Pod pendants in Gray glass hang above an oval Saarinen dining table. Our signature Gray glass complements the interior's neutral palette, especially the marble countertop and backsplash prominently displayed in the open kitchen. The warm light from our filament bulbs provides an intimate glow that balances the natural light streaming in from the floor-to-ceiling window.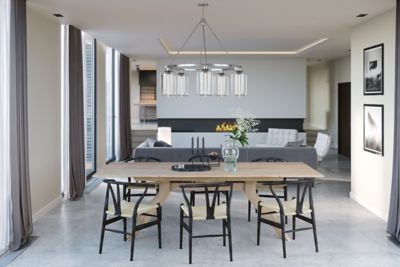 2. Part of the Niche Sola 36 Chandelier Collection, the Pod Modern Chandelier features our signature Pod glass shape. Here, five Pod pendants in Crystal glass hang from a polished aluminum metal finish, creating a stunning centerpiece above the dining room table. The Pod Chandelier is highly customizable - the glass color and metal finish is up to you, making each installation truly unique.
3. A trio of Pod pendants in Sapphire glass hangs above this custom wooden table. Our bold blue glass adds a burst of color in this otherwise neutral space, standing out against a backdrop of white and gray tones. Grouping multiple pendants in your home like in this kitchen? Try hanging our hand-blown lights from a Linear-3 Modern Chandelier, now available for free when you purchase three Pod pendants in any color of your choice.*
These renderings have been visualized by the talented Algimantas Raubiška. See more of his work and other ways he has incorporated Niche pendants in his 3D renderings. You can also take a look at how interior designers and architects have used Niche's Pod pendant in real spaces.