Autumn has officially begun! Beacon is the place where leaf-peepers flock in the fall for incredible views of foliage. We have our sights set on helping you celebrate this season in our city, and all of our suggestions involve Niche pendants!
1. MODERN LIGHTING AT NICHE'S FALL FACTORY SALE
For two days this fall, you can save 50-80% on Niche's factory seconds and samples. At our Fall Factory Sale this October, you can browse countless pendant styles for a fraction of the original price. Stop in and take home the perfect piece for your unique project.



2. MODERN LIGHTING IN RESTAURANTS AROUND TOWN
Grab a bite to eat or your drink of choice at this rustic restaurant. Located on a historic property overlooking a tranquil waterfall, the Roundhouse boasts delicious dishes and beautiful views, both inside the dining hall and outside on the patio. Their creekside cocktail lounge features custom Solitaire pendants in Crystal glass, making a bold statement above the bar.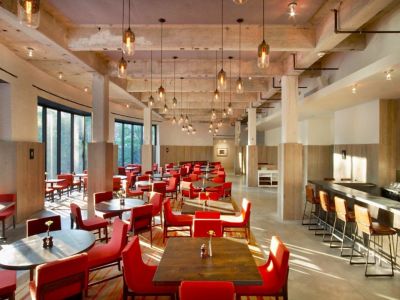 This head-turning display leaves guests lingering long after they've finished their dessert. Inside the eating area, custom Helio pendants in Effervescent glass with a gold dip hang from the high, wood panel ceiling. The color combination complements the natural tones and light wood grains. Other Main Street eateries feature our modern pendant lighting as well. An array of Pharos pendants adds a splash of color inside Poppy's Burgers and Fries, adding a nice balance to their industrial interior. At Ziatun, a new, Middle Eastern bistro, our Minaret pendants and Turret pendants add a classic touch over dining tables.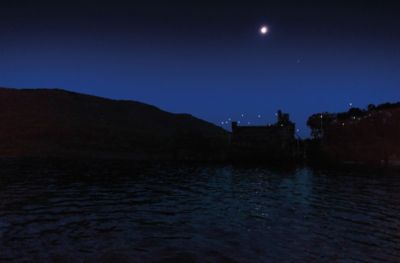 3. MODERN LIGHTING IN LOCAL ART INSTALLATIONS
Melissa McGill's public art project on the ruins of Bannerman Castle illuminates the Hudson River between Beacon and Cold Spring. Handblown glass orbs in our Sapphire glass color form a constellation of stars over the mysterious Pollepel Island. Take a sunset boat cruise, tour the island, and see Constellation aglow from the water. For more information on how to visit, check the exhibit's website.

For more of our favorite places to visit and eat, check out the Factory Sale guide.