Gregor Disse and Emma Nishimoto of Spaett Architecture were summoned to the tiny Swiss city of Appenzell to design an eatery at the foot of Mount Santis. The hotspot Gass 17 serves both locals and tourists looking to shake the chill of the cold weather with a cocktail or locally sourced meal. Inside the restaurant and bakery, Niche modern pendant lights add to the inviting atmosphere.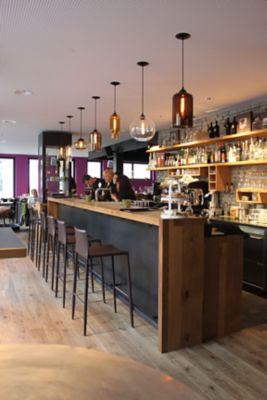 Owners Jaqueline Fässler and Hans Ueli knew they wanted to incorporate modern restaurant pendant lights from the outset of the design process. The two were seduced by a multi-pendant lighting installation at Merus Winery while on a vacation in Northern California. They then decided to incorporate six Niche pendant lights in their establishment.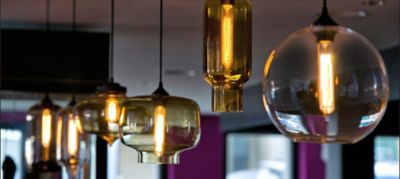 A grouping of our Pod, Pharos, Minaret, Bella, and Solitaire pendants hang above the black steel and wood bar. A pairing of our Pod and Minaret pendants in Amber glass adorn a table for customers, radiating a warm glow throughout the intimate interior. The linear display of our pendants helps to visually define the space, and the soft light cast from our signature silhouettes enhances the social setting's cozy aesthetic. The rich Amber, Chocolate and Crystal glass colors complement the restaurant's natural palette of light oak tones and exposed stone accent walls.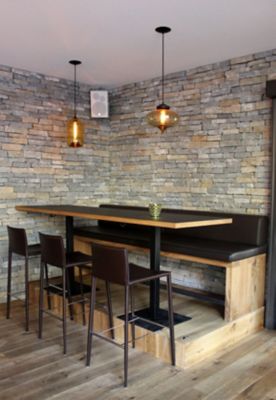 Gass 17 Project Details
Project Gass 17
Location Appenzell, Switzerland
Designer Gregor Disse and Emma Nishimoto, Spaett Architecture
Photographer Emma Nishimoto