Heyroth & Kürbitz freie Architekten BDA have worked together on many successful projects. Both architects ensure that they develop precise plans carefully adapted for the build so that clients can rest assured that their ideas will be realized within the specified budget. Their work on this Asian Bistro located in a Berlin shopping mall truly reflects their attention to detail and level of care. We are pleased to see that Niche modern restaurant lighting was a main focus in their design plans. We absolutely love the result!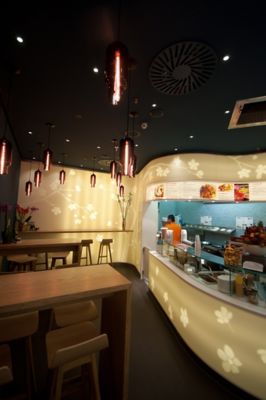 A cluster of Pharos pendants in Plum glass adorn the dining tables in this restaurant. Hanging from varying drop lengths, the Pharos pendants form a stunning centerpiece of hand-blown modern lighting, drawing the eye's attention and enticing shoppers to grab a quick bite at this establishment. The warmth emitted from our luxurious Plum glass creates an inviting atmosphere for all to enjoy.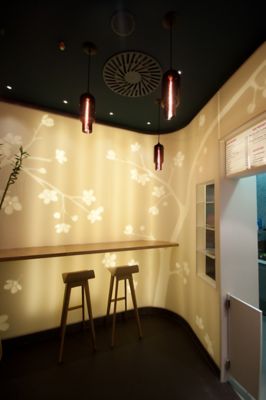 Niche would like to thank Ralf Kürbitz of the architecture firm for supporting our handmade products and for sharing this project with us. Whether you're a designer, architect, homeowner, or business owner, we would love to see how you incorporate Niche lighting in your projects! Send us your project information and awe-inspiring images for a chance to be featured on our blog and social media pages.
Modern Restaurant Lighting Project Details
Location Berlin, Germany
Architect Heyroth & Kürbitz freie Architekten BDA
Products Used Pharos pendants in Plum glass