This private loft in SoHo, New York by Jasmine Lam Interior Design is the perfect example of a space that is both comfortable and luxurious. Lam pairs the practical and the functional with beauty, creating environments that exude a relaxed feel despite being dressed with rich art and ornate furniture. This Manhattan interior specifically achieves this aesthetic. Niche bedroom pendant lighting adds to that luxurious but soothing vibe.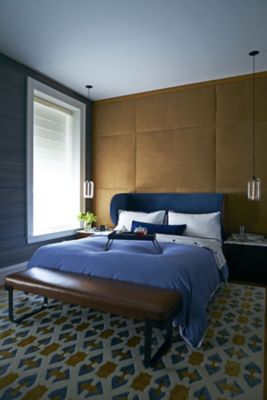 Two Pod pendants in Crystal glass hang on either side of the bed. Our classic Crystal glass brings elegance to the space while also helping to tie together the bold blue hues, patterned rug, and textured wallcovering. Bedroom pendant lighting is a great alternative to the traditional table lamp. Hanging two of our modern pendant lights on either side of your bed as seen here creates a soothing glow by bringing balance to your space.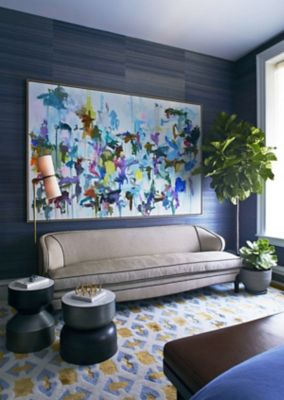 The designer shared this project with us — and we are so glad that she did! We don't always get to see our lighting in their stunning arrangements once they leave our studio. Whether you're a designer, architect, homeowner, or business owner, we would love to see your Niche lighting projects! So many of you have supported our original work by purchasing our handmade glass lighting. We'd like to thank you by featuring your project on our blog. All you have to do is send us your project information and awe-inspiring images to match.
Modern Bedroom Lighting Project Details
Project Name Private Loft
Location SoHo, New York
Interior Designer Jasmine Lam Interior Design
Photographer Hector Sanchez
Products Used Pod pendants in Crystal glass