Designed by Hill Construction Group Inc., this modern farmhouse in Preston Hollow, Texas isn't any ordinary home. It belongs to former Dallas Cowboys safety and three-time Super Bowl champion, Darren Woodson, who played 12 seasons with the professional NFL team. His 5,863-square-foot home includes five bedrooms, four full bathrooms, and a fully-loaded kitchen equipped with the latest appliances and Niche modern kitchen pendant lights.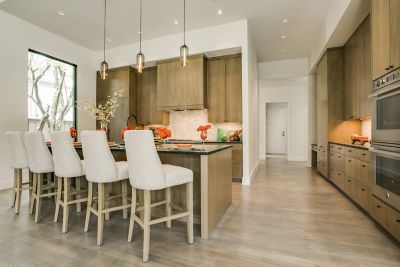 A trio of Pharos pendants in Gray glass hangs above the kitchen island. One of the very first designs in the Niche's modern lighting line, the Pharos pendant looks stunning in clusters or lines of multiples over a restaurant bar or kitchen counter, as seen here. Our signature Gray glass complements the white oak flooring by Nortex Custom Hardwood Floors and the furniture featured throughout the conjoining living room. "We used Niche modern sconces over the kitchen island to add to the hand-curated appeal of the entire home," says Chris Hill of Hill Construction Group Inc.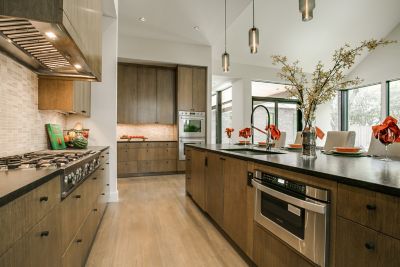 Hill shared this project with us — and we are so glad that he did! We don't always get to see our lighting in their stunning arrangements once they leave our studio. Whether you're a designer, architect, homeowner, or business owner, we would love to see your Niche lighting projects! So many of you have supported our original work by purchasing our handmade glass lighting. We'd like to thank you by featuring your project on our blog. All you have to do is send us your project information and awe-inspiring images to match!
Modern Kitchen Lighting Project Details
Project Name Preston Hollow Project
Location Preston Hollow, Texas
Contractor Hill Construction Group Inc.
Flooring Nortex Custom Hardwood Floors
Products Used Pharos pendants in Gray glass