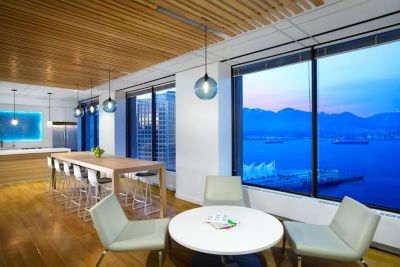 Located in Vancouver, British Columbia, PlentyofFish is an online dating website that began as a one-person start-up in 2003 and is now a leader in the online dating network industry. SSDG Interiors updated and expanded the PlentyofFish headquarters as the business grew. The new work environment is both energizing and professional.
As an online dating website, PlentyofFish's goal is to create meaningful connections between people. To incorporate this purpose into their headquarters, the design includes collaborative workspaces, maximized natural light and views, and bright blue accents throughout to create an inviting and inspiring interior reflective of their brand.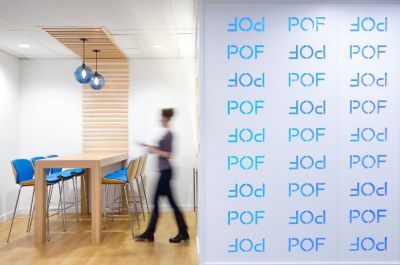 The bright blue accent color was the perfect chance to use our Sapphire glass and the classic Solitaire pendant light. As office pendant lighting, the Solitaire's simple spherical silhouette looks great anywhere! SSDG Interiors used that to their advantage and installed the Solitaire as table lighting in a few different collaborative spaces inside the office.