Say hello to Britney, a member of our Marketing team! Britney has a background in interior design and is our logo and branding queen! Every branded Niche document you see has been meticulously crafted by Britney. You'll get the right information and a beautifully designed document all in one package. Keep reading Britney's "Employee Spotlight" to find out her favorite Niche pendant.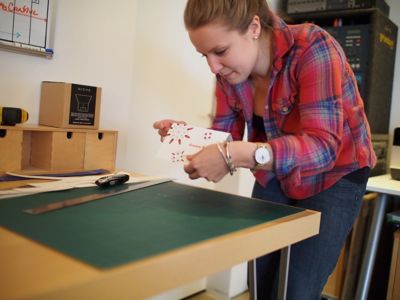 Tell us a little about your interior design background. What made you pursue that path?
It all started when my brother asked me to build cars out of legos….I ignored him and would build houses. I couldn't understand why things were being made to be so disposable when, once upon a time, everything was built to last. I went to Pratt Institute where I first learned the basics of woodworking, soldering and welding to understand process and how things are made. This paved the way to studying interior design. This combines how things are built with how people interact in a space which leads to tailoring a space to benefit the user. Yay interior design!
What do you do at Niche as part of the design and marketing department?
At Niche I'm involved in branding, printing, and retouching product images. It's always fun for me to go back to my first love and draw interiors, help design sets for new pendant lines, and propping for photo shoots. I love having the opportunity to be a part of so much.
What elements and objects in the design world inspire you the most?
Quality and detail inspire me the most. From an old grate in the floor, to intricate door knobs, to the perfect lighting. I just love old stuff! Any chance I get to bring a forgotten, old piece of furniture back to life, I couldn't be more excited. I may have a small obsession with chairs. Whenever I see an old wooden chair on the side of the road I get the urge to take it home with me and refinish it.
What is your favorite Niche pendant shape and color combo? Why?
I'm drawn to the Helio Chroma pendant light palette, but the Storm glass color is my favorite. It looks like a simple dark piece of glass but once it lights up it has so much color! Multiples of anything always make a much larger statement so the Helio Chroma pendant light on a Pack Canopy would be my favorite pendant and lighting canopy combination.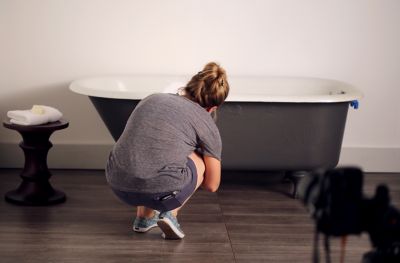 What's your favorite place in the Hudson Valley? Why?
My car? I've lived in the Hudson Valley my entire life and there's always something to do. I absolutely love exploring.