Located in the luxurious holiday residence of Schooner des Alpes, the Cristal bespoke apartment and resort offers breathtaking surroundings for all guests to enjoy. Perched in the Paznaun Valley, this building finds balance between the seclusion of nature and the attractiveness of one of Europe's most popular ski areas. Designed by Nobe Interiors and Kätlin Ölluk and Tiina Kesküla of Spacewise, this interior includes an array of high-quality materials, including Niche modern pendant lighting.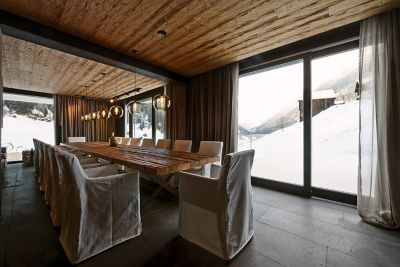 In the dining room, floor-to-ceiling windows draw in an abundance of natural light and mesmerizing mountain views. To balance the sunny, snowy-white glow, six Niche Solitaire pendants in Amber glass bring warmth to the gathering space. The honey-colored hue of our Amber glass brings warmth to the wintery atmosphere and complements the rich, centuries-old salvaged wood featured throughout the space. The linear arrangement of Solitaire pendants helps to visually elongate the table and allows the interior to feel open and airy.
Niche pendants are also installed in the resort's bathroom. Two Pharos pendants in Gray glass hang on either side of the double vanity, while a cluster of two Pod pendants in Chocolate glass hang on the opposite side of the room, just beyond the freestanding tub. The Pharos pendant's Gray glass complements the basalt stone basins over which they hang, which, like Niche products, also happen to be hand-crafted. Both Niche lights featured in this room help to create a cozy and luxurious environment for anyone to enjoy. Cristal is available for short or extended stays. Book your trip now!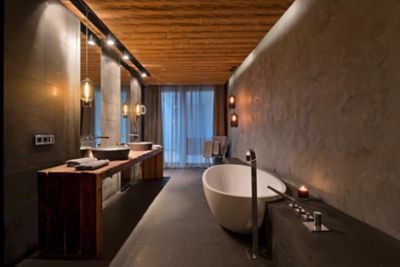 Modern Luxury Apartment Pendant Lighting
Project Name Cristal
Location Tirol, Austria
Interior Designer Spacewise Bespoke Interiors, Nobe Interiors
Client Swiss Property
Products Used Solitaire pendants in Amber glass, Pharos pendants in Gray glass, Pod pendants in Chocolate glass