Designed by Spacwise Bespoke Interiors, the Art Loft Townhouse is located within the award-winning apartment complex yoo berlin, created by Philippe Starckin. With its central location in the heart of the city, bright rooms, and custom luxury interior outfitted by SWISS PROPERTY, this two-story loft fulfills and exceeds everything expected of an exclusive townhouse. With high-quality materials incorporated throughout the space, including Niche modern pendant lighting, this residence is unparalleled to those of its kind.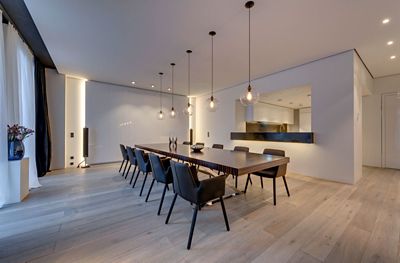 In the dining room of this modern loft, a linear arrangement of five Solitaire pendants in Crystal glass hangs above a custom table. The classic shape of our Solitaire pendant along with our signature Crystal glass brings elegance to this interior. Stunningly minimalist and straightforward in its presentation, the celebration of one single Edison style bulb at the center of the Solitaire modern pendant light is beautiful to behold. The simplicity of this shape and glass color complements the cool, neutral tones featured throughout the space, especially the light wood floors and white walls. This palette creates a light and airy feel and reinforces the open layout plan.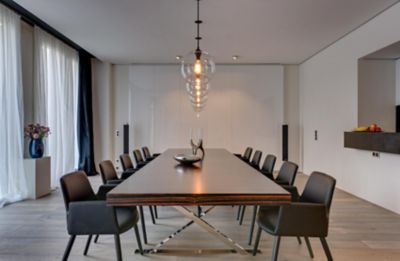 In the master bathroom, two Pharos pendants in Gray glass hang on either side of the double vanity. The arrangement of these pendants helps bring balance to the space by creating an elegant symmetry. These handmade pendant lights create a cozy, relaxing environment, perfect for unwinding just as the day is drawing to a close.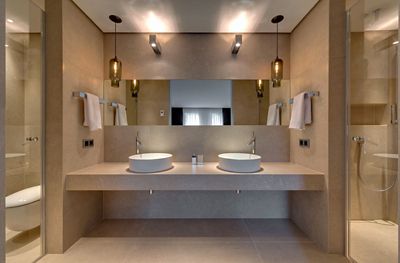 According to Spacewise Interior's website, the lighting for this project worked to tie the design together: "Sourcing the highest quality fixtures and fittings was the key to success...The lighting concept was a central component of the design. The final outcome of our work is a stunning modern interior that seamlessly integrates architecture, design and art." To see more work from Spacewise, browse yesterday's blog post about a modern luxury apartment in the Australian Alps.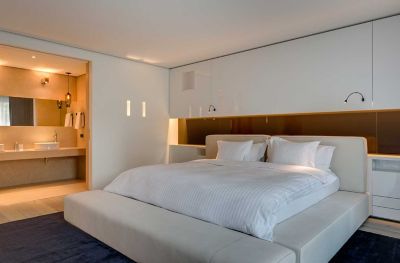 Modern Apartment Pendant Lighting
Project Name The Art Loft
Location Berlin, Germany
Interior Designers Kätlin Ölluk, Tiina Kesküla and Katy Seppel of Spacwise Bespoke Interiors
Client SWISS PROPERTY
Products Used Solitaire pendants in Crystal glass, Pharos pendants in Gray glass