What was once an outdated and dark kitchen is now a light-filled space thanks to handmade Niche pendants and the stunning design work of Design by Misha.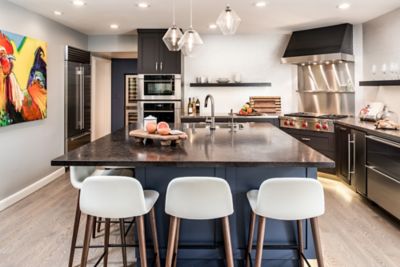 A trio of Trove pendants in Crystal glass hangs above the kitchen island. The large island — which is used for preparing food, dining, and entertaining — takes center stage in this interior. We couldn't be happier to know that Niche's hand-blown pendant lights shine in the same space where the homeowners and their friends choose to continually gather.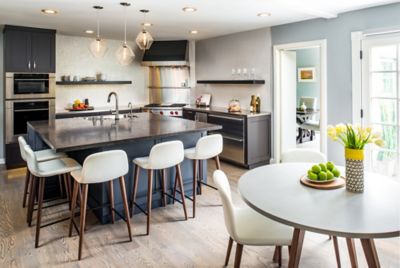 The kitchen features a clean design, and our classic Crystal glass truly complements the space. The use of accent colors, like the rich blue of the island's body and the vibrant artwork hanging on the walls, adds personality in the otherwise neutral kitchen. The playful geometry of the Trove pendant also adds a unique and elegant flair to the interior that made the client's "heart sing." Sing it did.

Modern Kitchen Lighting Project Details
Project Name Land Park Luxe
Location Sacramento, California
Interior Designer Design by Misha
Products Used Trove pendants in Crystal glass