OneUp Restaurant and Lounge is an American Bistro located within the Grand Hyatt San Francisco. Designed by CSS Architecture, OneUp incorporates classical cooking methods to create artistic and inventive food, sure to delight the palate. Here, Niche modern hotel pendant lighting welcomes visitors to enjoy a delicious meal and a hand-crafted cocktail.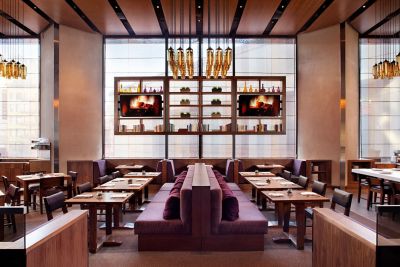 Several clusters of Pharos pendants in Smoke glass hang from Multi-Pendant Modern Chandeliers above guests as they dine. The warm, neutral hue of our luxurious Smoke glass infuses the space with a warm, ambient glow, creating an intimate environment. The Pack Modern Chandelier boasts tightly grouped bouquets of our signature Pharos pendant to design a compact and contemporary fixture. The Pack only requires a single electrical junction box for easy installation and pre-measured pendant spacing. The color of the glass and drop length are up to you, making each installation completely unique.
In the bar area — which boasts a unique menu created by a local mixologist, paired with craft beers and the hotel's very own OneUP Whiskey — more clusters of Pharos pendants in Smoke glass adorn this relaxing place socialize. Our contemporary colored glass complements the natural materials, which reflect the air of Northern California casual that plays against clean, modern design.