Designed by Home Interiors Aspen, this 5,152-square-foot home in Colorado features an open floor and multiple areas to take in the breathtaking Aspen Mountain views. Extensive planning and design preparation went into creating a space that reflects both comfortable elegance and modern style. With clean lines, contemporary decor, and Niche modern kitchen island pendant lights, this single family residence is the ideal getaway.
A trio of Aurora pendants in Smoke Glass hangs above the kitchen island. The neutral color of our signature Smoke glass complements the interior's beige palette, especially the wood accents and upholstered furniture featured throughout the conjoining space. Thinking of hanging multiple pendants like in this stunning Colorado kitchen? Try using a Linear-3 Modern Chandelier, which allows you to easily combine any three light fixtures with a single electrical junction box. The color, shape and drop length are up to you, making each installation truly unique.
To thanIf you have kitchen island pendant lights in your home, we want to share your project with the world! To thank you for supporting our handmade products, we would love to feature you on our blog and social media pages. All you need to do is send us your project information and awe-inspiring images!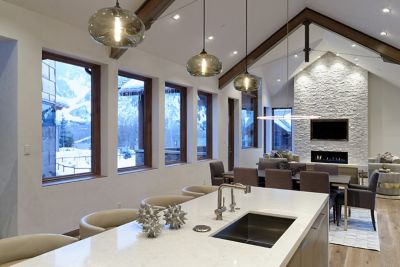 Modern Kitchen Island Lighting Project Details
Project Name Fox Crossing 1
Location Aspen, Colorado
Interior Designer Home Interiors Aspen
Products Used Aurora pendants in Smoke Glass