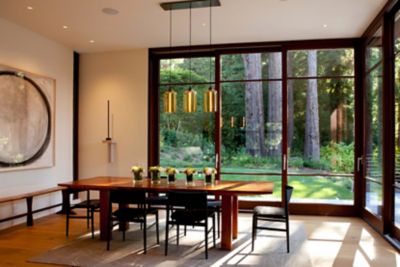 Located in Marin County, California, this 5,000 square foot house in Mill Valley was designed for a couple by CSS Architects. The surrounding site served as the inspiration and guiding element for the architecture, with vast views of Mt. Tamalpais, intimate connections to groves of redwood trees, and a steep incline all contributing to the stunning design. Given its location, stepping up the hillside and squeezed between trees, the home is divided into three levels. The lower floor is built into the hillside, while the upper two are open to broad daylight and breathtaking views. It is on the ground level where Niche handmade pendant lights hang.
In the dining room, a trio of Bella pendants in Amber glass hang above the table from a Linear-3 Modern Chandelier. The honey-colored hue of our Amber glass complements the wood grains featured throughout the interior, and the natural tone seamlessly unifies the conjoining space. The dining room reveals two sliding doors that open up to the adjoining patio. Our pendants help to balance the natural light streaming in from the floor-to-ceiling windows. Our multi-pendant linear canopies are made customizable to fit your unique style and space. A single electrical junction box helps to ensure even spacing between each pendant and makes installation easy.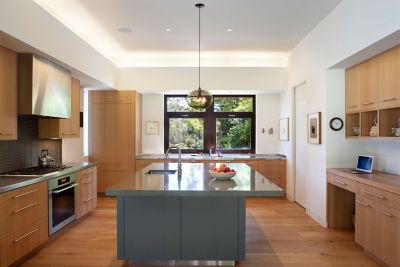 In the kitchen, a Terra Pendant in Smoke glass brings harmony to the space, complementing the blonde custom cabinets and cool gray body of the island. The single pendant makes a bold statement in this room, as the generous proportions of this hand-blown glass makes its presence known. Our distinctive, transparent glass captures the essence of the natural surroundings of this serene abode, and we couldn't be more thrilled with the outcome.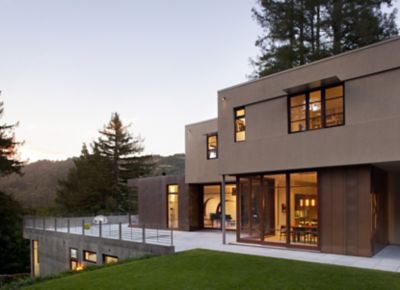 Modern Lighting Project Details
Project Mill Valley Residence
Location Marin County, California
Architect CSS Architects
Contractor Kasten Builders
Photographer Paul Dyer