Santa Barbara's DesignARC remodeled this 1960's single-story ranch home for a couple who desired a fresh take on their outdated residence. The main strategy was to connect all of the inside spaces to the outdoors with large sliding glass doors for an open-air environment.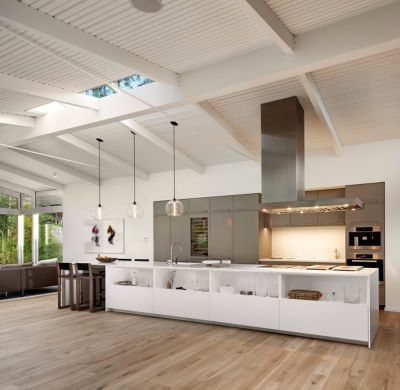 The rooms were once dark and secluded, but the new open-air floorplan and the continuous skylights throughout bring a natural illumination to the central gathering space of the home.
Above the kitchen island, three of Niche's Stamen pendant lights in Crystal glass add to the overall illumination of the interior. Sunlight from the skylights and large glass doors reflect off of the modern hand-blown glass kitchen island lighting, creating an enchanting, contemporary aura.