Fivecat Studio is an award-winning architecture firm serving Westchester County, the Hamptons, and the lower Hudson Valley, not far from our Beacon, New York studio. The firm provides complete architecture, interior design, and construction management services for residential projects like this Chappaqua Deepwood Kitchen renovation. Inspired by their clients and rooted in the traditions and history of the region, Fivecat Studio chose to incorporate Niche modern kitchen island lighting in this stunning project, and we love the end result.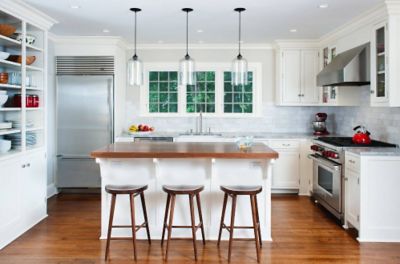 A trio of Niche Bella pendants in Effervescent glass hang from individual junction boxes above the kitchen island. The translucence of our textured glass gives a fresh, clean aesthetic and complements the kitchen's white interior, especially the cabinetry, backsplash, and marble countertop. This signature silhouette lends itself beautifully to environments where repetition is appropriate for high impact, and that is certainly the case here. Learn more about how to use kitchen island lighting in white interiors.
The subdued and neutral tones create a simple yet sophisticated space, with deep wood tones adding natural contrast to the interior. The red accents found in the dishware and kitchen appliances throughout the room bring a nice balance to the otherwise monochromatic palette. Our Bella pendants add a touch of elegance to this classic kitchen.
Photos courtesy of Scott LePage