How high or low a pendant hangs from a ceiling determines the mood of the space. Take a clean and functional table setting to a warm and romantic feeling just by lowering the pendant light. Calculating the height of your Pod modern pendant light is simple. The standard 4' Black Cord Set that comes supplied with your Niche Pod pendant should work for most installations. Your electrician can easily adjust the height up or down before installing so you can get it just right.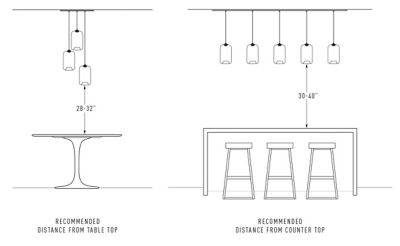 FLOOR TO CEILING - FLOOR TO BOTTOM OF GLASS = DISTANCE OF PENDANT FROM SURFACE
All Niche modern lighting cord sets can be adjusted on site to the desired length. To find out how much cord length you need, just take the measurement from the floor to the ceiling and then subtract that from the distance from the floor to the bottom of the glass. It's as simple as that. We're always here to help make sure you have exactly what you need. Feel free to reach out to our Sales Team with any questions you may have and download Pod Product Guide for more installation ideas.