Alexis Bednyak Design and Searl Lamaster Howe teamed up to renovate a condominium for a young couple living in Chicago's West Tower Place. Together they set out to create an impactful space with a clean aesthetic, successfully achieving this look by incorporating neutral tones and simple accents. We are pleased to see that Niche handmade bathroom pendant lighting fit into their stunning design plan.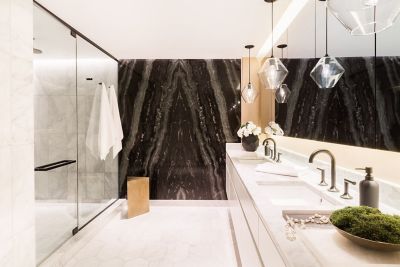 A trio of Trove pendants in Crystal glass adorns the double vanity in the couple's master bathroom. The linear arrangement of our Trove pendants creates visual depth, allowing the environment to feel larger. The geometric shape of this Crystalline silhouette adds a playful yet sophisticated touch to this minimalistic space. Our signature Crystal glass complements the black and white palette featured throughout the interior, especially the marble countertop and granite accent wall.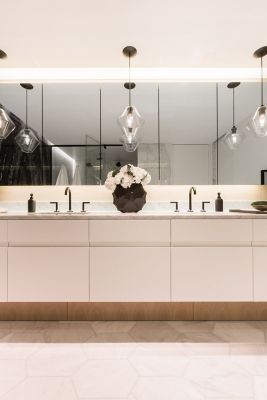 "[The couple] had wanted layered lighting in the bathroom since it has a lack of direct, natural light, so the pendants folded perfectly into our lighting plan and looked good to boot," says Bednyak. We couldn't be more pleased with the final result. To stay updated on Bednyak's latest design work, follow her on Instagram and Houzz.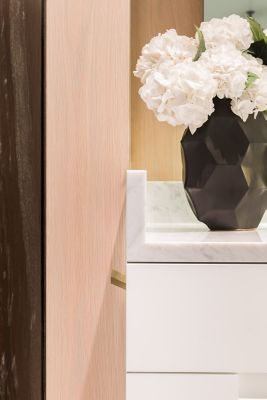 Modern Bathroom Lighting Project DeTails
Project Name West Tower Place - Chicago Pied-à-terre
Location Chicago, Illinois
Interior Designer Alexis Bednyak Design
Architect Searl Lamaster Howe Architects
Photographer Alyssa Rosenheck
Products Used Trove pendants in Crystal glass