No matter how you choose to style your pendants, your unique centerpiece will surely make a statement. Whether you hang a single silhouette over your sink or a cluster of custom pendants over your bathtub, Niche products will beautifully brighten your bathroom every time. Get inspired by these four different ways to utilize modern bathroom pendant lights in your home.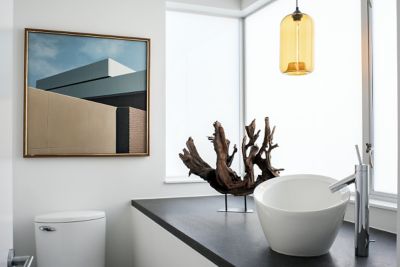 1. A Single Bathroom Pendant Light
A Pod pendant in Amber glass hangs above the vessel sink in this stunning, sun-drenched San Francisco home by Andrew Gath. The single pendant fits into this minimalistic space perfectly while still drawing the eye's attention amidst the driftwood decor and modern painting. The honey-colored hue of our Amber glass provides an added glow to the already well-lit environment.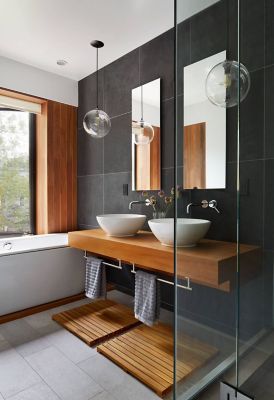 2. Two Bathroom Pendant Lights
This Prospect Height's Townhouse by Etelamaki Architecture features two of our Solitaire pendants in Crystal glass. The two pendants create a sense of symmetry by framing the interior's double mirrors and sinks. Our signature Crystal glass adds to this Brooklyn bathroom's neutral aesthetic while bringing a bit of elegance and sophistication to it as well.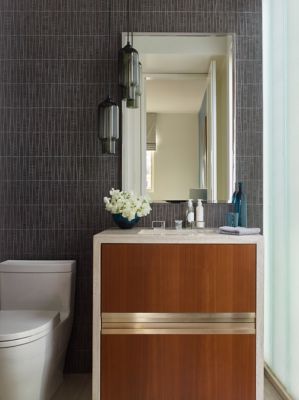 3. A Cluster of Bathroom Pendant Lights
A cluster of our Pharos pendants in Gray glass hang on one side of the vanity in this Manhattan Beach Home by Annette English & Associates. Hanging this slender silhouette from different drop lengths creates a custom display that seamlessly fits into this interior. The cool color of our Gray glass beautifully complements the bathroom tile and blue accents found throughout the space. Read more about this bathroom remodel.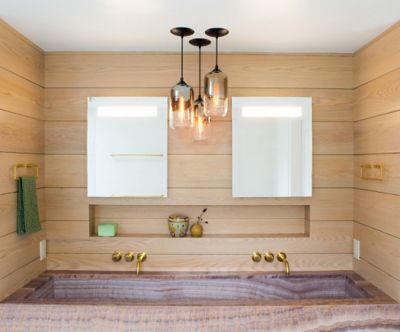 4. Custom Bathroom Pendant Lights
A trio of our Helio pendants in Effervescent glass with a custom Mercury overlay hang centered above the bathtub in this Westchester home by Elizabeth Strianese Interiors. The warm Mercury effect matches the wooden sink basin and shower wall, making the pendants well-suited for this spa-like residential bathroom. If you are hanging multiples in your home, try using one of our Multi-Pendant Modern Chandeliers to create a dazzling centerpiece.