Incorporating bright lighting in your home adds a playful yet elegant burst of color to help your space stand out. Whether you dress up a white interior with Niche Crimson pendant lights or incorporate colorful furniture in your space, rich red shades will bring warmth to any interior. Here are a few examples of how designers decorate with the color red.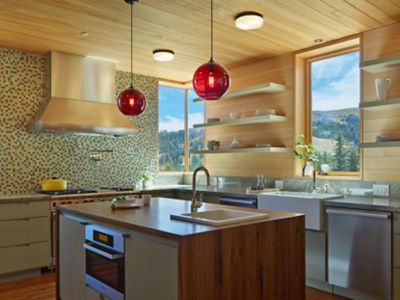 1. Use Red Pendant Lighting
This ski resort cabin designed by BCV Architects and Staprans Design features two Solitaire pendants in Crimson glass above the kitchen island. The rich, luxurious color of our Crimson glass complements the warm wooden cladding of the walls and ceiling while standing out against a backdrop of cool blues and greens. Overall, the colorful palette reflects the rustic earth tones seen from the home's stunning view.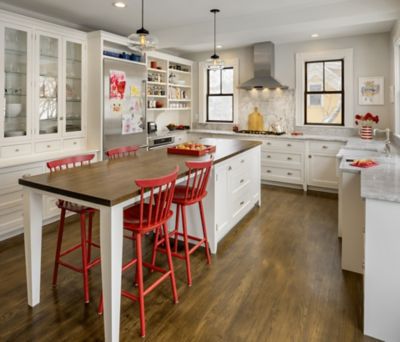 2. Incorporate Red Accents
Red House Custom Building transformed this Newton Kitchen into a contemporary gathering space. Two Minaret pendants in Crystal glass adorn the eat-in kitchen island. Our signature Crystal glass complements the interior's neutral palette, especially the white cabinetry and marble countertop and backsplash. Red accents, like the wooden bar chairs and decorative utensils add a playful and vibrant touch to this stunning home.
3. Pair with Other Warm Glass Colors
Clusters of Niche Pharos pendant lights hang from a custom Pack Modern Chandelier in this mid-century modern home designed by Jamie Bush. A grouping of Amber, Smoke, Gray, and Crimson glass complements the rich interior, especially the various wood grains featured throughout the space. This warm, modern stairway lighting display welcomes both the homeowners and their guests to the second level of this unique oasis.

Afraid of commitment? We understand. Purchasing lighting is an important step in the design process, and seeing colors in person is a great way to decide what will work for your project. That's why we offer Glass Color Samples in sets of 3 or 5. You can have a Crimson glass sample sent right to your door so that you know exactly what it looks like in your space. Can't decide on Crimson or Rose? Plum or Tulip? Need more than five samples? Let us know what you're looking for — we're always happy to help!