Our team strives to perfect our rich palette of bold and luxurious glass colors. Our red Crimson glass brings warmth to any environment. Seeing colors in person is a great way to decide what will work for your next project. It's easy to order Crimson glass and other color samples from Niche. Select three or five colors to have delivered to your door. Keep reading to view three modern interiors that incorporate crimson contemporary lighting.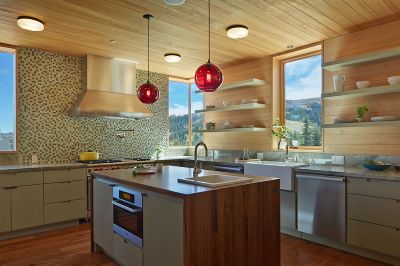 This ski resort cabin designed by BCV Architects and Staprans Design features Niche Solitaire pendants in Crimson glass. Our Crimson glass complements the warm, wooden cladding of the walls and ceiling. One might argue the real view is the kitchen island lighting, but we still love this getaway's 360° mountain views.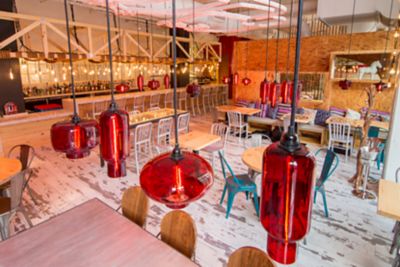 Capella Garcia Architecture is behind China Chilcano, a stunning restaurant in Washington D.C. that blends Peruvian, Chinese, and Japanese culture. The bar and dining room evoke an industrial street-like feel, alive with the glow of overhead neon lighting sculptures that are reminiscent of the city lights outside. Paired with the neon's red radiance, the restaurant is full of Niche's Oculo, Pharos, and Stargazer pendant lights in Crimson glass above each table, creating an inviting atmosphere for diners.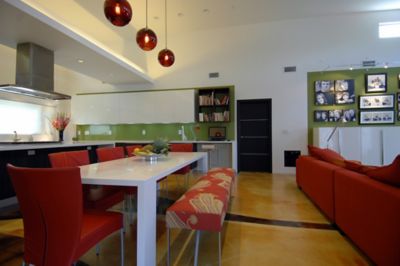 A trio of Solitaire pendants in Crimson glass hang above the dining room table in this home designed by Ferraras Interiors. The rich red color of our Crimson glass complements the leather chairs, cushioned bench, and bronze floors. The warm palette creates harmony in the open kitchen, dining, and living area.
Feeling inspired to add a burst of color into your home? You can visit our website to view all of our Crimson colored glass.