We love seeing interior design projects with Niche pendants, but we get an extra special feeling inside of us when we learn that a famous celebrity has our handmade glass lights in their home. For people who spend most of their time on the road, it warms our heart to know that the one place they always come back to after long spans of traveling and working is a place filled with products made by hand in our Beacon, New York studio. Here are three celebrity homes with Niche modern pendant lights.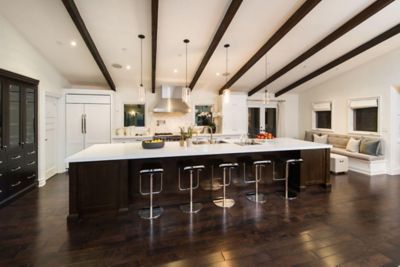 1. Mila Kunis and Ashton Kutcher
Mila Kunis and hubby Ashton Kutcher upgraded their "That 70's Show" kitchen for this modern one in Los Angeles. Inside, four Bella pendants in Crystal glass hang over their eat-in kitchen island. Niche's classic crystal glass complements the neutral palette — especially the white cabinetry and countertops — while also standing out against dark-stained wood.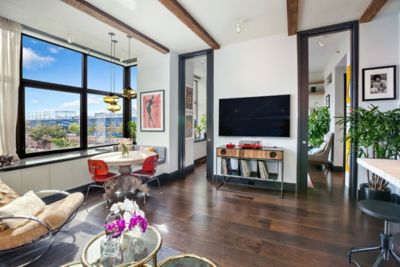 2. Erin Heatherton
Supermodel and actress Erin Heatherton renovated her stylish West Village apartment a few years ago. In the living room, a trio of Minaret pendants in Amber glass hangs above a table and nook. The Minaret pendants hang from varying drop lengths, creating a unique and stunning centerpiece that draws the eye's attention. Our signature Amber glass brings warmth to the room while providing the perfect amount of accent lighting to balance the sunlight streaming in from the wide windows. See other Niche pendants in Heatherton's home.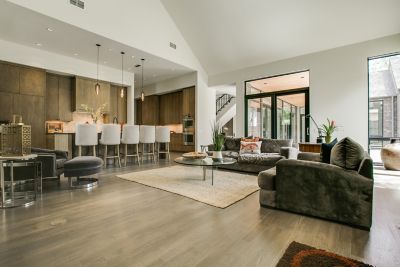 3. Darren Woodson
This modern farmhouse in Preston Hollow, Texas belongs to former Dallas Cowboys safety and three-time Super Bowl champion, Darren Woodson, who played 12 seasons with the professional NFL team. Designed by Hill Construction Group Inc., this 5,863-square-foot home includes Niche modern kitchen pendant lights. A trio of Pharos pendants in Gray glass hangs above the kitchen island. One of the very first designs in Niche's modern lighting line, the Pharos pendant looks stunning in clusters or lines of multiples over a restaurant bar or kitchen counter, as seen here.