When she isn't walking the runway, supermodel and actress Erin Heatherton has a knack for interior design. Her stylish West Village apartment was completely renovated — a project that included raising the ceilings to maximize space, light, and comfort. The finished product also includes several Niche glass pendant lights throughout the interior.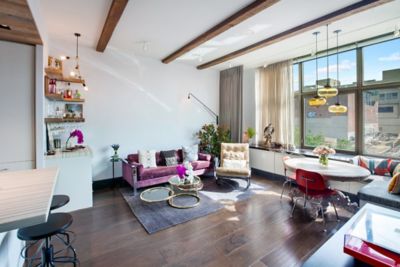 In the living room, a trio of Minaret pendants in Amber glass hangs above a table. The Minaret pendants hang from varying drop lengths, creating a unique and stunning centerpiece that draws the eye's attention. Our signature Amber glass brings warmth to the room while providing the perfect amount of accent lighting to balance the sunlight streaming in from the wide windows.
Given the small floor plan, Heatherton needed to make each room as versatile as possible. Her living room — which also acts as a guest bedroom — features two Binary pendants in Plum glass on either side of the couch. The rich Plum glass adds to the rustic vibe while complementing the hardwood floors and exposed wood beams, and the combination of green and purple accents included throughout the space.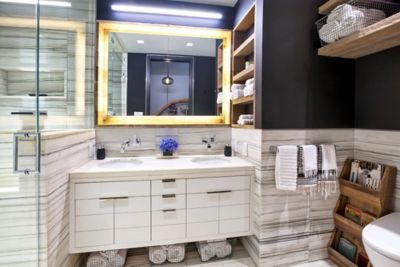 In a video tour of Heatherton's New York City pad, you will also see a linear grouping of Aurora pendants in Gray glass. Our luxurious handmade modern pendant lighting offers a simple way to enhance her main hallway while also helping to visually guide the model to the master bedroom.