Dining room pendant lighting is sure to spice up your gathering space! Whether you add a single pendant or a cluster of complementary silhouettes over your dining table, Niche hand-blown glass lights create a unique centerpiece in any space. Get inspired by three bright and sunny dining room lighting installations.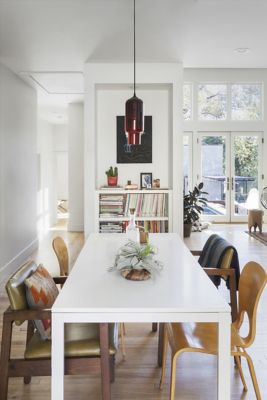 Designed by 9 Square Studio, this Austin, Texas bungalow now offers more open living, dining room, and kitchen space for a family of four to enjoy. The design firm and Larry Anderson Construction lifted the roof to create higher ceilings in the gathering areas, allowing light into the space. A single Pharos pendant in Crimson glass brings added light to the dining room, providing a burst of color and warmth against a backdrop of all-white.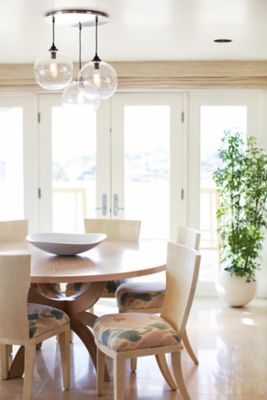 This dining room by Jodi G Santa Barbara Interior Design features a Polished Stainless Circular-3 Canopy with Solitaire pendants in Effervescent glass. Our handmade Effervescent glass, which embraces high texture through optic bubbles, adds a unique touch to this bright and airy kitchen. The light wood tones and white accents make this minimalistic kitchen the perfect place for the Solitaire pendant, which is stunningly straightforward in its presentation.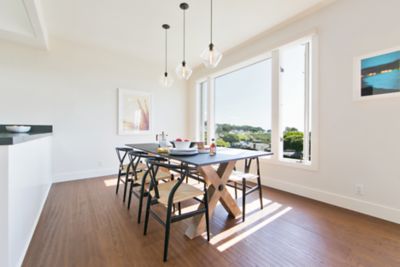 A trio of Trove pendants in Crystal glass adorns a dining room table in this beachy Dana Point Home by Lisa Gutow Design. The geometric shape of our Trove pendants adds a playful touch to this neutral interior. Sunlight illuminates the contrasting black furniture and creates a natural spotlight for both the table and the handmade glass pendant lights. See more images from this stunning dining room.