In March, we celebrated our 13th Anniversary of bringing bespoke glass lighting to life. To thank you for supporting our handmade glass products, we gave one lucky person who entered our Instagram contest a modern pendant light of their choice. The winner, @mrsblankenship, recently shared photos of her installed pendant. Keep reading to see what she chose and the innovative way she decided to hang her Niche light.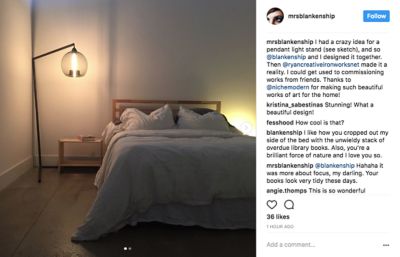 Mandy chose Niche's Stamen pendant in Gray glass as her modern pendant light of choice. We love that she chose a classic Niche silhoutte and color for her home. The Stamen modern pendant light is truly the signature pendant of the Niche line and became the impetus for all of the other pendant designs which followed. The Stamen redefines the parameters for hand-blown glass by curving around voluptuously and tucking into itself unexpectedly.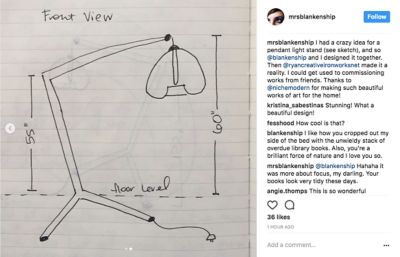 Mandy and her husband live in a loft, so installing a ceiling pendant is currently not an option for them. Instead, the couple sketched an idea for a stand and then had metalsmith @ryancreativeironworksnet turn their design into reality. Mandy's Stamen pendant now hangs above a bedside table.
If you haven't done so already, get in on the "likes" and follow us at @nichemodern for exclusive access to contests and giveaways like this one.