Wattage measures energy use, not light output. With new energy efficient LED technology, we can no longer rely upon wattage to indicate how bright a bulb is. Wattage should never exceed the limits of the cord set for safety reasons. Lamping in our standard cord sets should not exceed 100 watts.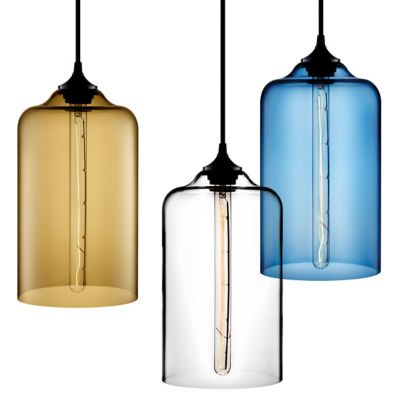 100 watt maximum bulb pendant lighting
Niche modern pendant lighting will work with bulbs outside of what we can provide — while we cannot test all possible bulb and socket combinations, as long as the bulb you would like to use is under 100 watts, fits within the glass, and uses the standard threaded bulb socket, your bulb choice should work fine without any problem.
---
60 watt maximum bulb pendant lighting
As for "enclosed" glass pendants like the Minaret (pictured left), Turret, Pointelle, Schoolhaus and Coolhaus modern pendant lights, the maximum wattage bulb for these styles is 60 watts.