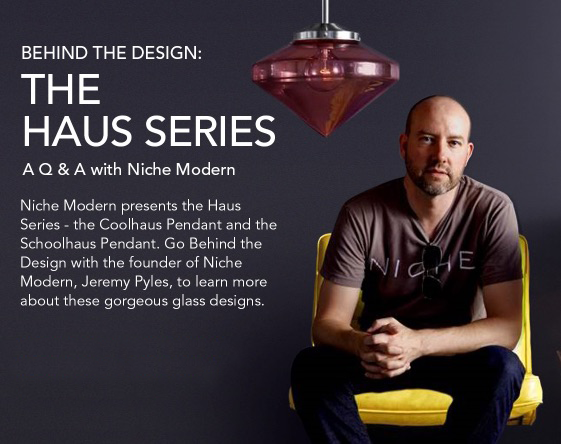 Our Creative Director, Jeremy Pyles, detailed the method to the madness behind Niche's Haus Series in a Q&A with Lumens! With a focus on nostalgia, Jeremy believes good design can transport you to another time and place, and that's just what the Haus Series achieves.
Lumens: The Schoolhaus and Coolhaus pendants sound like they were made for each other. How do you envision them playing off each other, if at all?
Jeremy: To me, they are both period pieces. The Schoolhaus is more traditional Americana whereas the Coolhaus is full of optimism for the future that inspired the design scene in the twenties.
The minute anyone says that they don't belong together or pair gracefully, someone will do so in an imaginative and inspired way. My purpose is to launch them into the world at large -- what happens after that is out of my hands and I will say that I have been quite surprised in the past at how creatively designers and architects have mixed and matched shape and color with Niche Modern products with stunning results that I personally wouldn't have even considered!
Lumens: What feelings do you hope these pendants will evoke in people?
Jeremy: I know the shapes will resonate with people as they evoke the feel of past decades, but used in transparent vibrant colored glass, I want people to be surprised by how these nostalgic designs are still fresh and modern and relevant.
Read the full interview here and don't forget to browse the Haus Series!