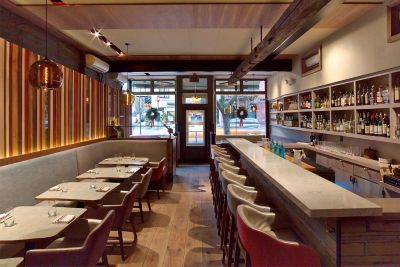 1. Blenheim - 283 West 12th Street
At Blenheim in the West Village, everything served comes from the corresponding Blenheim Hill Farm in the Catskill mountains of New York. With a hands-on approach as their business model, it was important for the interior of the restaurant to reflect the same theme. What better than hand-blown glass restaurant pendant lighting? Our Stamen modern pendant lights in Amber and Chocolate glass adorn the bench seating. In the front windows, our Aurora, Pharos, and Oculo pendant lights also make appearances as part of the dining room.
This East Village cafe and wine bar serves pastries, paninis, and cappuccinos by day, a full dinner menu with 20 types of wine by night, and a taste of restaurant modern lighting all day long. Our Crystal Minaret pendant lights above the bar emerge as a modern tribute to a traditional shape. Not flashy, but still impeccably timeless, the Minaret pendant light adds to Tarallucci e Vino's modest and casual aesthetic.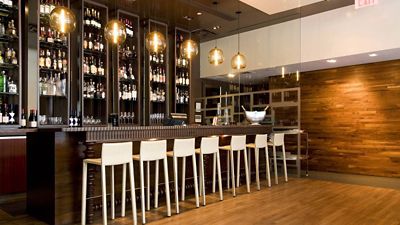 3. A Voce - 41 Madison Avenue
A Voce celebrates the simple pleasures of Italian cooking in a welcoming, sophisticated and modern oasis. Our classic Stamen pendant lines up and lights up above A Voce's Madison Avenue location. Paired with the hardwood detailing of the floor, wall, and bar itself, the environment is warm and welcoming, much like the restaurant's offerings of Italy's most beloved dishes.