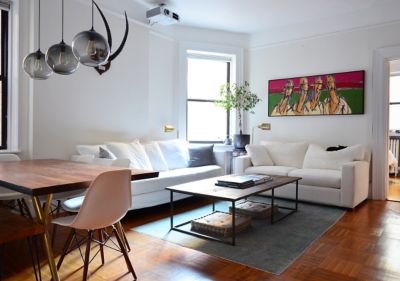 Michelle and Jeff de Lima-Miller bought this 650 sq. foot apartment in New York's Upper West Side in 2012. The townhouse building was built in the 1890s and and features a large living room, abundant light, and high ceilings. It is located across from Riverside Park, a place the Michelle and Jeff have always loved about Manhattan's Upper West Side.
Their style combines Jeff's minimalist eye with Michelle's love of meaningful pieces for a look that's clean but still warm and engaging. Whites, wood finishes, and mid-century modern furniture add simplicity, while paintings and, in these photos, antlers, contribute just enough personality without overwhelming the small space.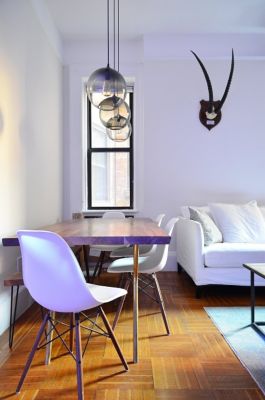 The only major change the couple made was to replace old, fluroescent tube lights. They made the right choice by selecting Niche's Solitaire pendant lights in Gray glass. The table pendant lighting exemplifies the perfect mix of Jeff's minimalist style and Michelle's knack for unique furnishings.
The trio of Solitaire pendant lights hangs using Niche's Linear-3 multi-pendant canopy and is a perfect complement to the table. It's easy to customize a pendant lighting canopy for spaces where you want to hang multiple pendants.