This modern living room by Design Within Reach caught our eye for several reasons, especially because a Niche modern pendant adorns the interior. The cool tones of our Stamen pendant in Sapphire glass combined with the palette of grays and whites create a dazzling living room with a refined touch and a relaxed atmosphere. Are you about to start a new design project and looking for inspiration? Recreate this look in your home!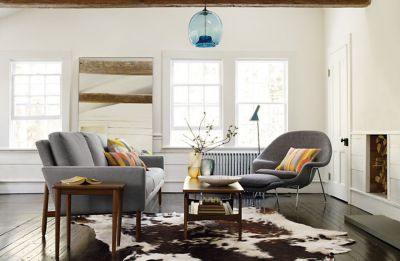 Shop This Look

The Stamen modern pendant light is truly the signature pendant of the Niche line and became the impetus for all of the other pendant designs which followed. Inspired by the natural forms of flowers, this silhouette redefines the parameters of hand-blown glass by curving around voluptuously and tucking into itself unexpectedly.

The Womb Chair and Ottoman by Eero Saarinen has an enveloping form that continues to be one of the most iconic and recognized representations of mid-century organic modernism. By applying foam molded over a fiberglass shell, Saarinen created a single-piece form that perfectly facilitates a relaxed sitting posture. It is now manufactured by Knoll according to the original specifications of the designer.

Raleigh is a comfortable collection designed by Jeffrey Bernett and Nicholas Dodziuk that draws from mid-century Danish design. It features an exposed solid wood frame that wraps around the back to support the seating area while lending visual lightness and satisfying tension to the whole. Unlike other exposed-frame collections that force overly upright sitting positions, Raleigh is designed with a carefully canted seatback for a more natural way of situating yourself as you relax and unwind.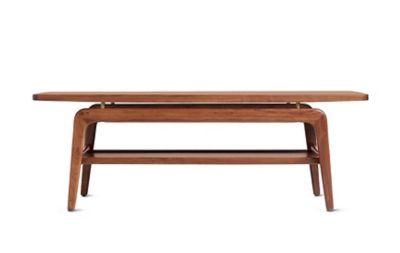 The smooth edges and tapered shapes of the Skagen Coffee Table recall the popular "surfboard" tables of the 1960s, furthered by the fact that the tabletop appears to hover over the frame, supported by simple brass spacers. The lower shelf on the coffee table has a lip on all four sides to keep books and magazines in place, and the ends of the table are slightly sculpted, maintaining flow from one part to the next.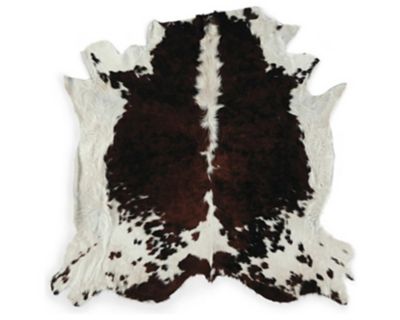 One of the leading providers of fine leathers in the world today, Spinneybeck began as a small Canadian company founded by Charlie Manchee in 1962. The Spinneybeck Cowhide Rug is a very large premium hide from Italy. Each one is unique, with its own distinct size, shape and tones.