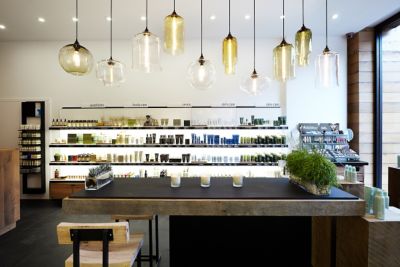 Niche pendant lights are meant to be mixed and matched! This Aveda beauty store does just that with a variety of glass colors and cord lengths in their installation. Solitaire, Oculo, Bell Jar, Bella, Pharos, and Stargazer pendant lights hang harmoniously in a linear arrangement in the center of the store. The eye-catching display is sure to guide you to the counter to try a product!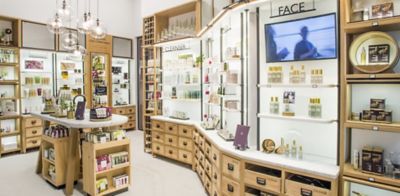 Caudalíe boutiques worldwide feature clusters of our Binary pendant lights in Crystal glass. Similar to the Aveda store above, these retail pendant lighting installations hang above the center counter of the store to create an inviting space to sample products and speak with a beauty consultant.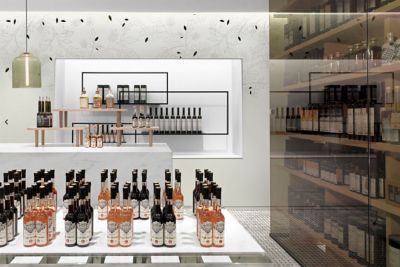 Ta-Ze is a unique gourmet shop for the chef and food enthusiast alike. Niche's Bell Jar pendant lights in Smoke match the light green walls that are layered with olive branch vinyl decals throughout the store. The retail pendant lighting hangs delicately above the front counter, similar to the exposed shelving that also seems to float in front of the walls that ensure the beautifully merchandised products are always on display.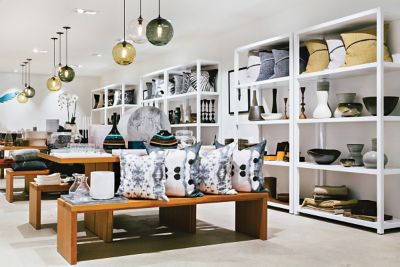 Photo by Tanya Goehring
Highly curated lifestyle store, Provide, uses multiple clusters of our classic Solitaire pendant light in Amber, Gray, and Crystal glass throughout the store. With a focus on quality craftsmanship and handmade products, it's no surprise that Provide chose Niche's hand-blown glass lights as their retail pendant lighting.